Pasta e fagioli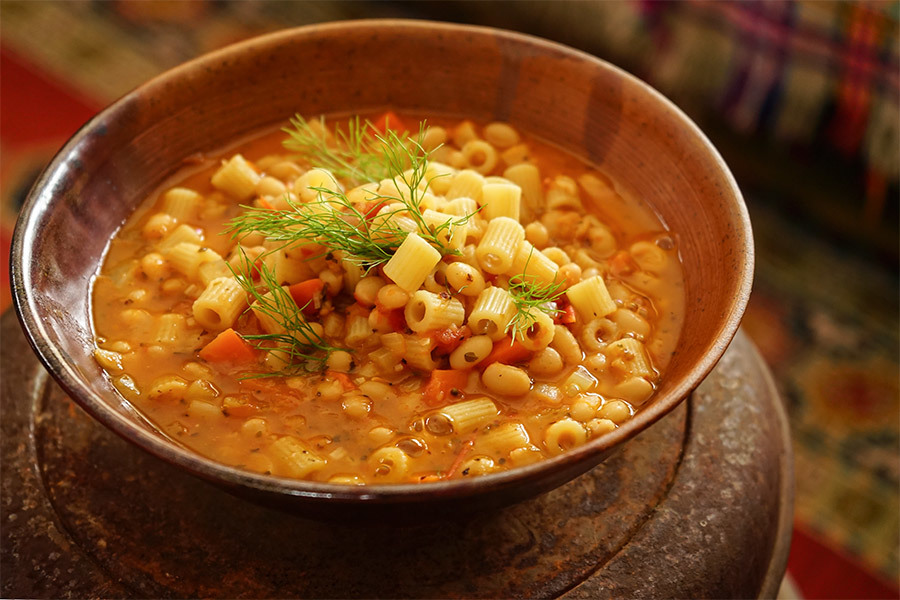 This rustic dish can be made a thousand different ways in Italy: The name really just means beans and pasta. Some omit the tomato; others add ham or pancetta. Canelli or Borlotti beans are the most traditional, but you can make it with white or navy beans, no problem.

Our version is vegan, replacing the stock with flavorful bean cooking liquid. We highly recommend cooking your own beans- the texture will be much better. If you use canned beans, replace the cooking liquid with a vegetable stock.
Ingredients
1 Tbsp olive oil
1 clove garlic, chopped
1 Tbsp Little Italy blend
1 small onion, diced
1 stalk celery, diced
1 carrot, diced
1 bay leaf
Salt to taste
Pepper to taste
2 cup white beans, cooked
1 cup tomatoes, diced
5-6 cups bean cooking water or stock
1 cup short pasta
Garnish
Parmesan, grated
Parsley, chopped
Préparation
1

Heat oil in a large pot on medium. Add garlic and spices and cook 1 minute.

2

Add onion, celery, carrot and bay leaf. Add salt and pepper and cook 5 minutes, stirring on occasion.

3

Meanwhile, put ½ cup of white beans in a food processor or blender, along with tomatoes and some of the cooking liquid. Purée.

4

Add tomato paste, remaining beans and cooking water to the pot. Stir and simmer for 30 minutes.

5

Add pasta to the pot and cook until al dente.

6

Garnish with parsley and parmesan if desired.