Pasta Primavera with Ricotta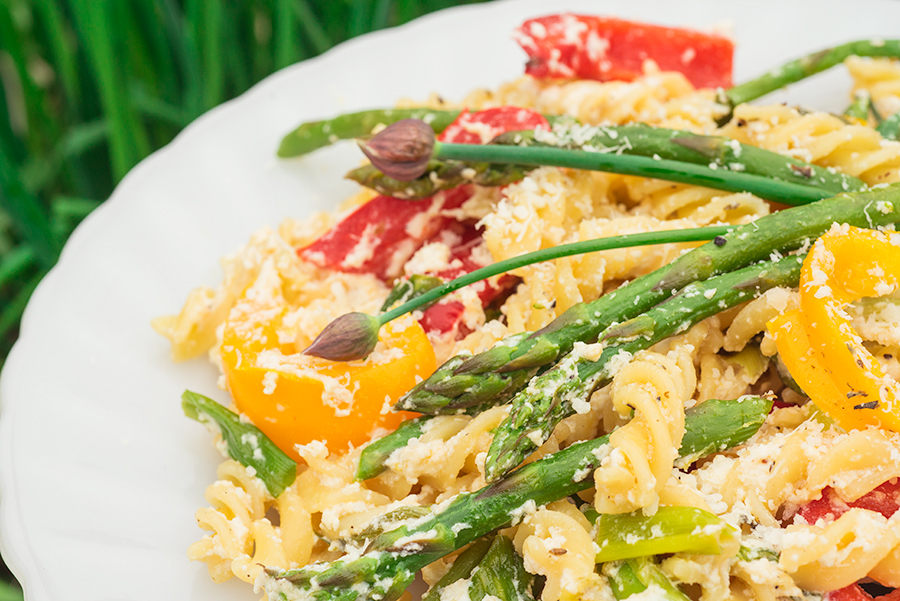 The principle behind this recipe is an even combination of pasta and vegetables. This will keep it flavorful as well as colorful. 
Ingredients
1 bunch asparagus
---
2 bunches scallions
---
3 bell peppers, any color
---
¼ cup olive oil
---
1 clove garlic, sliced
---
1 box (454g) short pasta
---
¼ cup parmesan, grated
---
450 g ricotta cheese
---
½ Tbsp Oregano
---
Salt and pepper to taste
Method
1

Trim and blanch asparagus in boiling water for around 1 minute. Let cool at room temperature.

2

Slice scallions into 1-inch pieces, at an angle.

3

Slice peppers into thin strips.

4

Slice asparagus into three pieces each.

5

Heat oil in a wok or large pot on medium. Add garlic, scallions, and peppers, sauté for a few minutes.

6

Add asparagus and sauté for 1 minute more.

7

Meanwhile, cook pasta in salted water according to package instructions.

8

Add cooked, drained pasta to the vegetables. Stir well and add ricotta, most of the grated parmesan and oregano.

9

Salt and pepper, then stir again. Serve with remaining grated parmesan.