Pasta Salad with vegetables and Parmesan dressing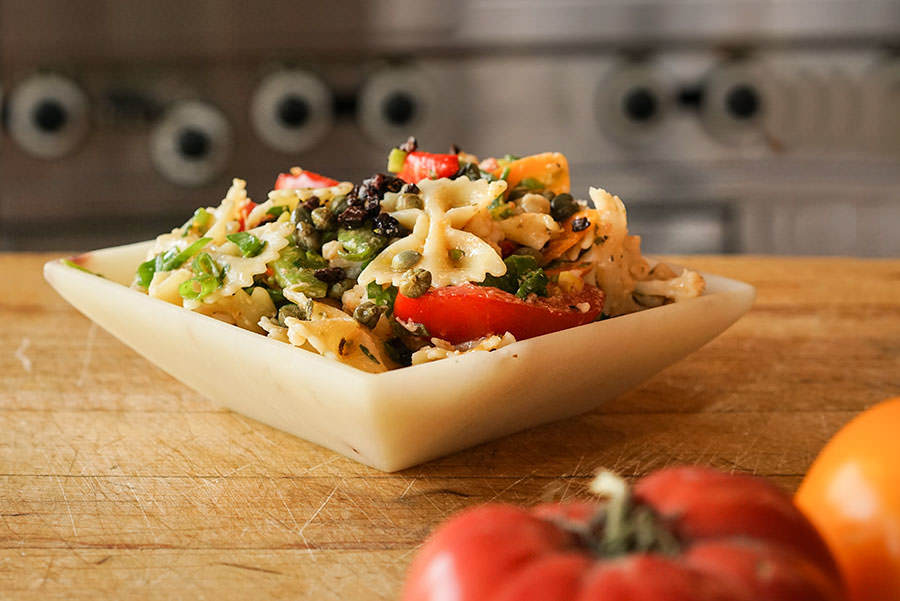 Pasta salad is perfect for picnics and lunches. It's way better when garnished generously. You can vary the vegetables with the season, but tomatoes and roast peppers are essential in our opinion.
Lemon juice and parmesan make a creamy and flavorful dressing and works for all kinds of salads.
Ingredients
1 cup parmesan
1 lemon
2 cloves garlic
3 Tbsp wine vinegar
3 Tbsp Little Italy Blend
Pepper to taste
½ cup parsley, chopped
¾ cup olive oil
Pasta Salad
1 pack pasta
8 cups vegetables (tomato, red bell pepper, cauliflower, broccoli, etc.)
¼ cup capers
¼ cup olives
1 bunch scallions, chopped
Method
1

Place parmesan in a bowl. Grate the zest of the lemon into the bowl and squeeze in the juice. Stir thoroughly with a whisk.

2

Grate garlic into a bowl and add vinegar, spices, pepper and parsley.

3

Let rest 5 minutes before gradually incorporating the olive oil with a whisk. Set aside.

4

Roast or blanch the vegetables in salted water. Cool the vegetables and reserve the vegetable cooking water.

5

Dice the vegetables. Place in a bowl with the dressing, capers, olives, and scallions.

6

Cook the pasta in the vegetable cooking water. Drain when the pasta is just cooked and cool on a large tray.

7

When the pasta is warm but not hot, incorporate it into the vegetables.