Peanut sauce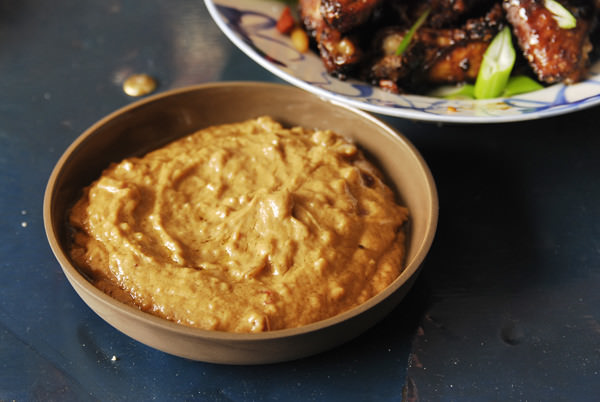 Cette recette servira d'accompagnement pour des satays ou comme vinaigrette d'une salade-repas. Elle est également délicieuse sur des raviolis chinois.
Ingredients
1 cup roasted peanuts
1 onion, finely chopped
1 Tbsp sambal oelek or hot pepper
1 tsp satay spices, ground
2 Tbsp raw sugar
2 Tbsp coconut milk or vegetable oil
5 oz coconut milk
2 tsp salt
4 tsp ketjap manis or soy sauce
3 Tbsp lime juice
Method
1

Grind peanuts in food processor. Set aside.

2

Heat a saucepan and cook together in oil for about 5 minutes onion, sambal, satay spices, and sugar.

3

Add peanuts along with remaining ingredients and enough water to form a creamy sauce.

4

Mix well and let simmer about 5 minutes over low heat.