Peas & Potatoes curry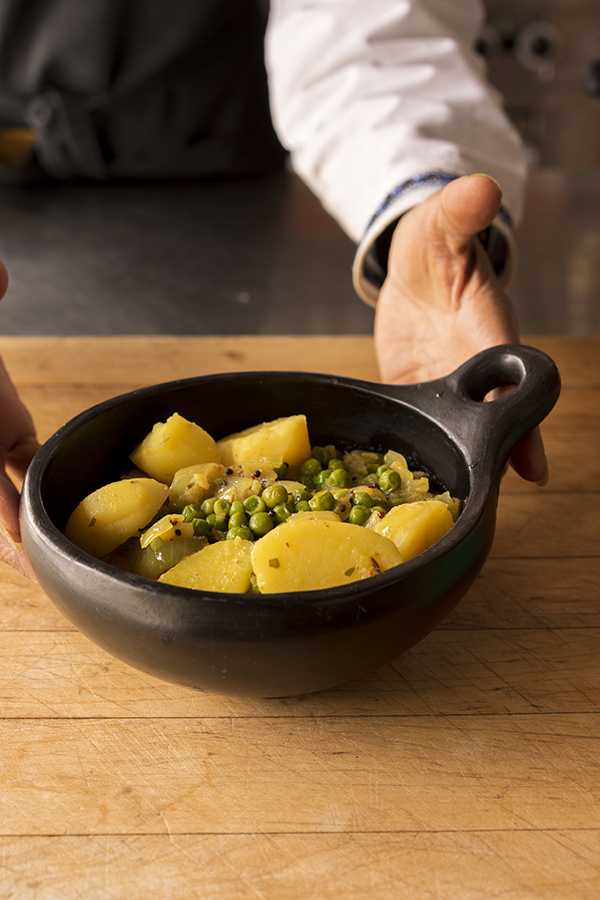 A simple, delicious, feel-good vegetarian dish starring potatoes which can easily become part of an Indian meal or other main dish. Use raw or cooked potatoes – simply adjust the recommended cooking time.
Ingredients
2 medium onions
3 Tbsp ghee OR half olive oil and butter
2 Tbsp Vegetable curry masala
4 cups potatoes in pieces
Salt and pepper, to taste
1 ½ cups fresh OR frozen peas
Method
1

Dice onions.

2

Heat a pot on medium-high heat. Add ghee or oil and butter, then onions, and sauté lightly for 5-7 minutes until golden.

3

Sprinkle the spices and continue cooking for a few minutes, stirring often.

Once odorant, add potatoes. Mix well, making sure that all ingredients are well coated. Barely cover with water. Salt and pepper to taste.

4

Bring to a boil. Partially cover using a lid then allow to simmer slowly until the texture of the potatoes is to your liking – firm, soft, or falling apart. Add some water if you prefer a more fluid sauce.

5

Add the peas and cook a little longer. Serve.