Penne with Sausage and Clam Sauce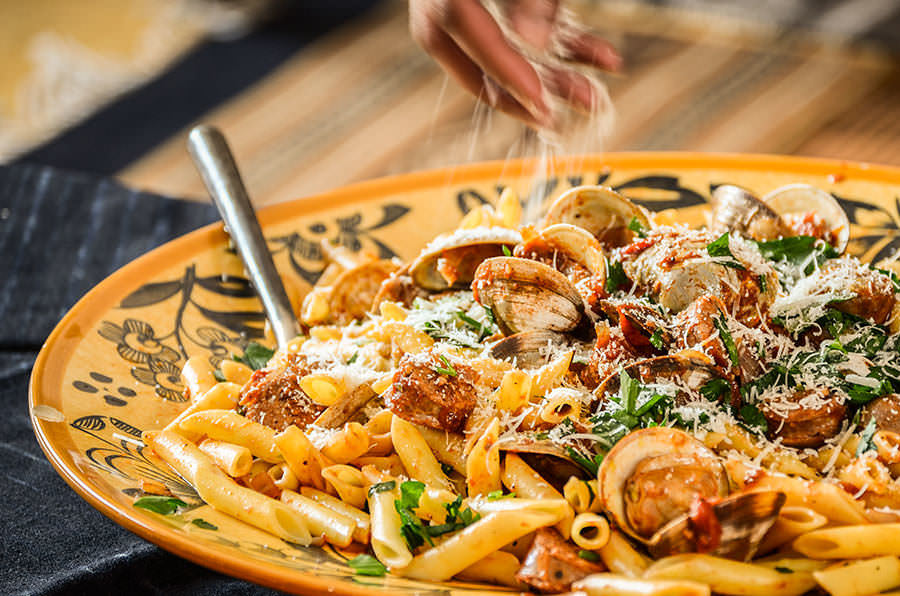 Seafood spices are all-purpose blends which also enhance meat, as well as seafood and meat combinations: paella and pilaff immediately come to mind. With this recipe, substituting fresh clams for mussels or other seafood is possible. Adjust the cooking time accordingly to avoid overcooking.
Ingredients
3 Tbsp olive oil
½ lb hot Italian Sausage
2 medium onions, sliced
2 garlic cloves, chopped
4 tsp East Coast Seafood blend, ground
1 tsp Mediterranean herbs (or Herbes de Provence)
1 glass white wine
1 ½ cup canned tomatoes
2 lb fresh clams or mussels, washed
1 lb penne
1 cup parsley, chopped
4 oz Kefalotyri or Romano cheese, grated
Method
1

Boil a large pot of salt water for the pasta.

2

Heat another pot on medium heat. Pour in oil and brown sausages on both sides (5-6 minutes). Add onions, garlic, spices and herbs. Cook 3 to 4 minutes until golden.

3

Deglaze with wine, add tomatoes and let simmer for a few more minutes.

4

Remove sausages and cut in slices. Return slices to the sauce with clams. Cook 5 to 6 more minutes until clams open (3-4 minutes for mussels).

5

Meanwhile, cook pasta.

6

Drain the pasta when it is al dente; place on a large platter and pour sauce over pasta. Add chopped parsley. Mix well. Add one-third of the cheese and splash of good quality oil, if desired. Serve with remaining cheese.