Peri-peri Shrimp and Orzo Salad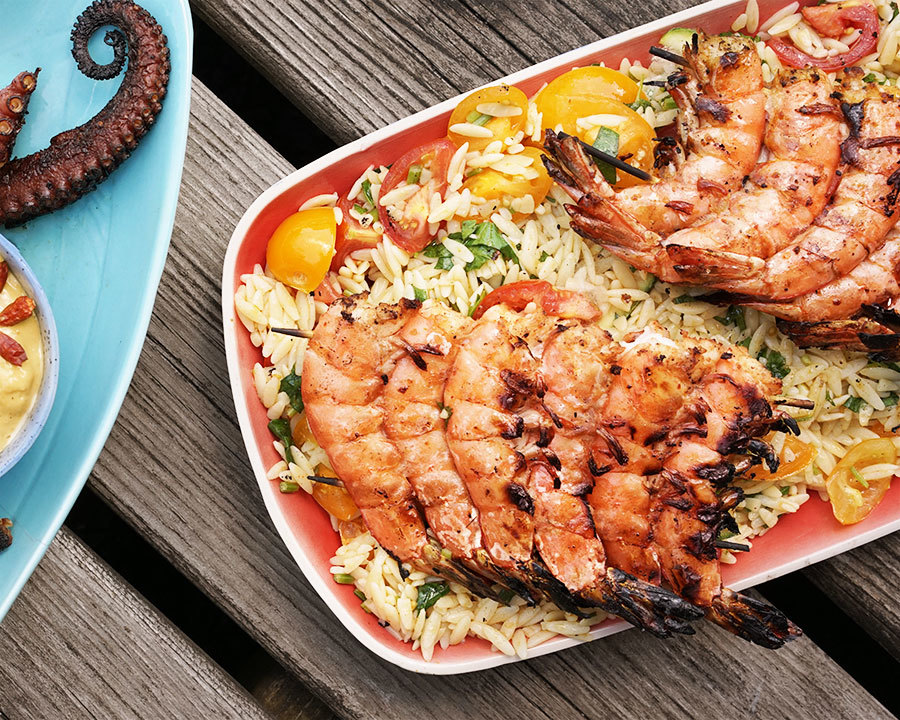 For this recipe, we recommend using « shell-on shrimps ». They will better absorb the marinade and remain juicy. This makes for a rustic dish as each guest must shell their own shrimps. Guaranteed to be « finger licking good »!
Ingredients
18 large shell-on shrimp
2 Tbsp lemon juice 
3 garlic cloves, chopped 
1½ Tbsp Peri-Peri spices, ground 
2 Tbsp olive oil 
½ tsp salt  
Orzo Salad
1 cup tomatoes, cubed 
1 small zucchini
2 Tbsp lemon juice 
1 tsp Peri-Peri spices, ground 
½ cup parsley, chopped 
1 garlic clove, finely chopped
Salt, to taste
Pepper, to taste
¼ cup olive oil
¼ lb Orzo
Method
1

Place shrimp, lemon juice, chopped garlic, Peri-Peri spices, olive oil and salt in a bowl. Mix well and let rest for 15 minutes.

2

Thread the shrimp on skewers. This step is optional but will make things easier during cooking.

3

Boil 6 cups of salted water in a large pot.

4

Cut the zucchini in four, lengthwise.  Cut into smaller sticks and place in a large bowl. Add the tomato cubes.

5

Add lemon juice, Peri-Peri spices, parsley, garlic, salt, pepper and finally the olive oil. Mix well. Let rest at least 15 minutes, enough to allow the vegetables to render their liquids which will then be absorbed by the warm pasta.  

6

Cook the orzo in boiling water. Pour into a colander when they are al dente and drain for 2 minutes.

7

Shred using a fork and pour the warm pasta into a bowl and mix.

8

Heat the grill on high. Grill the shrimp for 2-3 minutes on either side. Place the shrimp on the salad and serve.