Persian stew with dried lime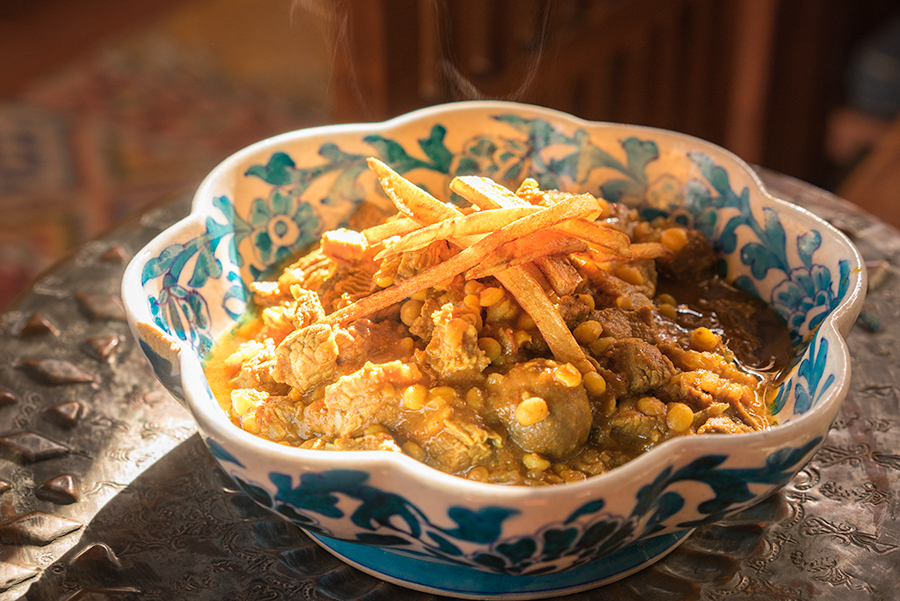 Dried limes and rose petals – ingredients typical to Iranian cuisine – add a unique fragrance to the sauce that accompanies this dish.  Even if the stew is delicious as-is, matchstick fried potatoes are usually added and make for an excellent garnish, as far as we're concerned.

Ingredients
2 medium onions 
4 Tbsp olive oil 
1 tsp turmeric, ground 
1 lb 1-inch cubed lamb or beef
2 garlic cloves
½ cup yellow split peas 
2 medium tomatoes
1 Tbsp tomato paste (opt.)
Salt and pepper, to taste 
1 generous pinch of saffron 
1 tsp rose petals, ground or 1 tsp rose water 
1 large potato 
½ cup vegetable oil, for frying 
Method
1

Place the dried limes in a small bowl and pour enough boiling water to cover the limes. Cover and set aside. This step will soften the limes and help liberate their perfume.

2

Heat a large pan on medium. Roughly chop the onions and sauté lightly in the oil. Stir occasionally.

Incorporate the turmeric and mix until the onions turn yellow.

3

Add the meat and cook for 5 to 7 minutes, mixing occasionally. Add the garlic and split peas.

4

Meanwhile, place the tomatoes and tomato paste in a food processor and liquefy. Pour into a pot and cook 5 minutes more.

5

Discard the lime soaking water and puncture the limes, using a fork, to avoid any splattering during cooking. Add the limes to the pan.  

6

Salt and pepper. Add the saffron and bay leaves. Add enough water to barely cover everything. Bring to a boil. 

7

Reduce the heat. Let simmer 1 hour or a little longer until the meat is tender. Cover halfway through cooking, once the sauce begins to thicken.

8

Turn off the heat then incorporate the ground rose petals. Let rest at least 15 minutes before serving.

9

Meanwhile, peel the potatoes and cut them into 3/16-inch matchsticks.

10

Heat oil in a small pan on medium and add the matchsticks once the oil is hot, but not smoking. Cook, stirring occasionally until they are golden (5 minutes). Remove, using a skimmer and place on a paper towel.

11

Remove the limes. Serve the stew garnished with potato matchsticks.