Peruvian Fish and Seafood Chowder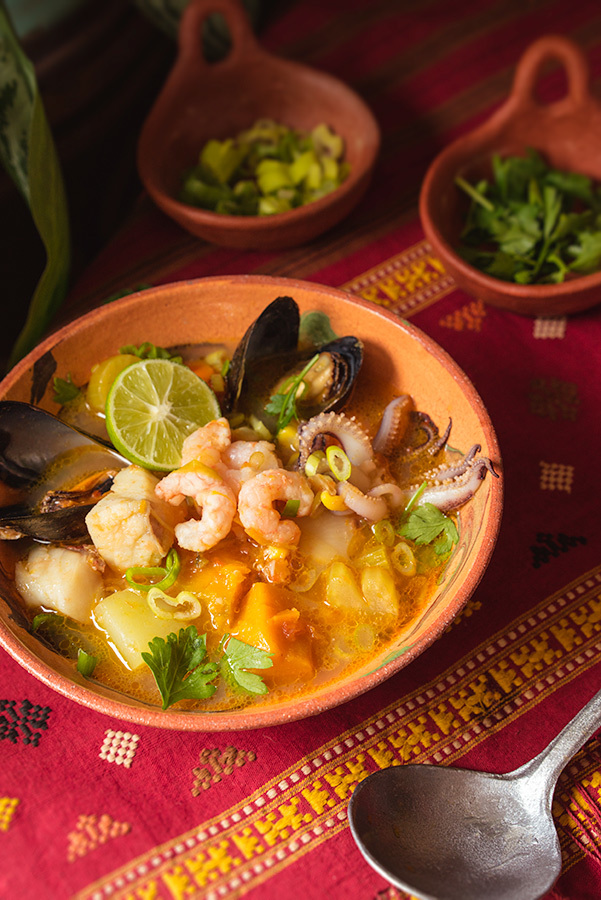 This fish and seafood soup was inspired by ingredients commonly used in Peruvian cuisine. It's easily prepared using different varieties of white fish, choose whatever is freshest at your fishmonger.
Ingredients
2 lb kg mussels
1 lb fish filet
½ lb cleaned squid
1 carrot
1 onion
2 celery branches
½ leek
½ cup olive oil 
6 garlic cloves, chopped
2 Tbsp Layover in Peru blend, ground 
3 medium tomatoes, peeled 
½ cup white wine 
¼ cup quinoa or rice 
1 medium potato in cubes 
1½ cups squash in cubes 
3 Tbsp wakame in small pieces 
½ cup corn kernels
1 cup cooked Lima beans or cooked chick peas
¼ lb cooked shrimp 
1 cup chopped parsley
Limes, quartered
Method
1

Wash mussels under heavily running water and discard those that are already open. Cut fish into 1-inch cubes. Cut squid into ½ inch rings. Set aside.




2

Cut carrot, onion, celery and leek into ½ inch pieces. Place a casserole on medium-high heat then add oil and diced vegetables.  





3

Simmer 3-4 minutes then add garlic and ground spices. Chop tomatoes and add to the casserole with wine and 4 glasses of water.

Bring to a boil.  




4

Add mussels and cook for 3 minutes as they open. Remove mussels using a slotted spoon, then set aside.




5

Add 6 cups of water to the casserole and bring to a boil. Add quinoa, pumpkin and potatoes. Salt to taste. 




6

After cooking for 15 minutes, incorporate wakame, corn and Lima beans. Cook for 5 more minutes. 





7

Add fish and cook 3 more minutes. Add squid, mussels and shrimps. Cook 2 minutes more, to reheat everything.


8

Garnish with parsley accompanied by lime quarters.