Peruvian style pork sandwich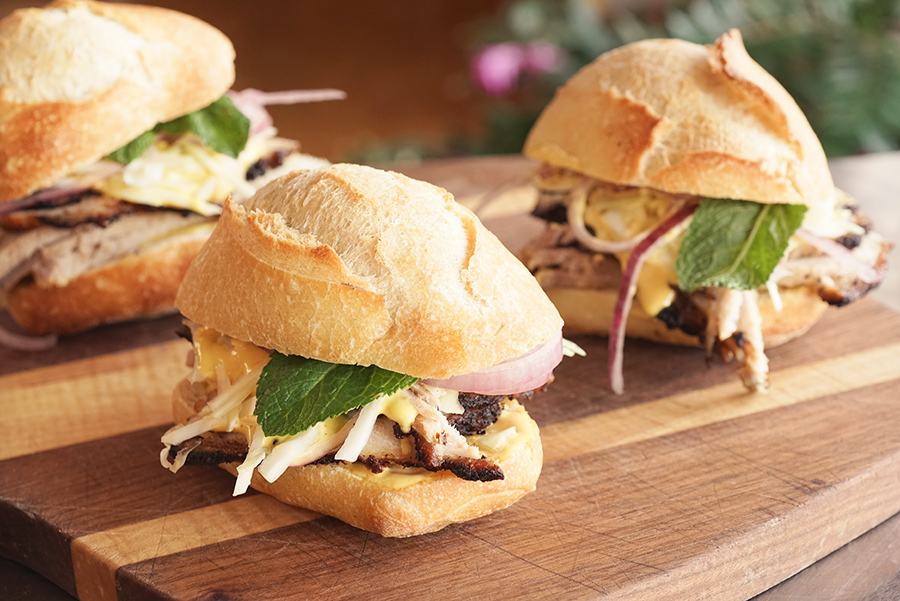 We fantasized about what this pork recipe would be like in a sandwich. Please note that the meat can be served as-is, or with rice and vegetables. We strongly recommend including the Aji Amarillo aïoli, which adds an immense amount of flavour to the sandwich. Serve any leftovers with pan-fried fish, grilled vegetables or cold meats. For a simpler version, mix 1 cup of mayonnaise with 2 Tbsp of Layover in Peru spice blend and 6 chopped garlic cloves.
Ingredients
1 to 1½ lbs pork filet
2 Tbsp Layover in Peru spice blend, ground 
2 tsp salt 
1 Tbsp olive oil 
½ cup cabbage, slivered
1 small red onion, thinly sliced
16 fresh mint leaves 
1 cup Aji Amarillo aïoli
8 small bread loaves 
Aji amarillo aioli
8 garlic cloves
1 tsp salt 
1 Tbsp wine vinegar 
1 egg yolk 
1 Tbsp Layover in Peru blend, ground 
1 cup olive oil 
Aioli
1

Rinse the Ajis under running water. Place in a bowl or jar and cover with hot water. Let rest for 2 hours minimum or overnight, if possible.

2

Drain the Ajis, then place them in a blender with garlic, salt, vinegar and egg yolks. Reduce to a purée. Drizzle in the oil, as the blender blades rotate, to make the aïoli.

3

Transfer into a clean jar. Keeps for 3 to 4 days refrigerated.