Georgian Pesto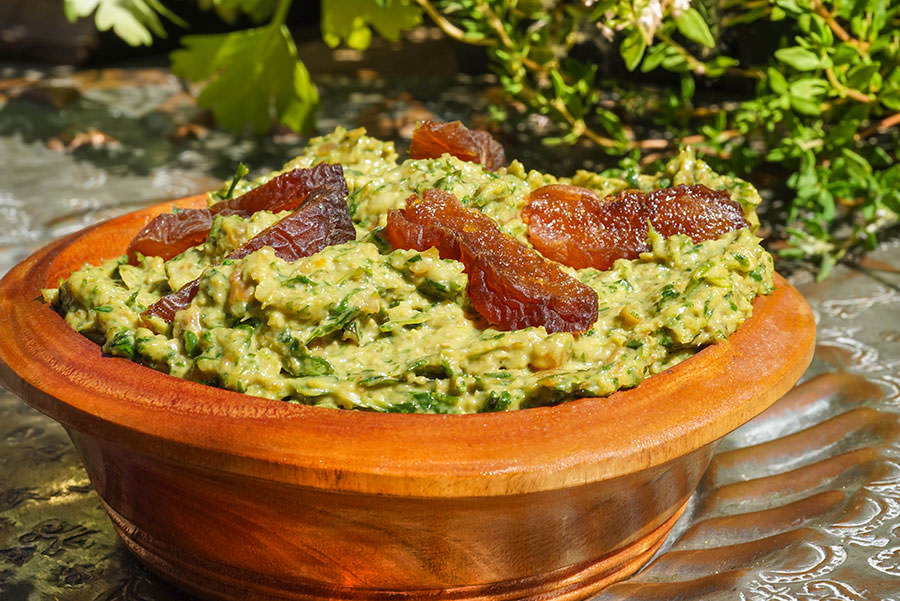 A pesto to make in summer, when fresh herbs are at their best. Your choice of herbs may vary, but cilantro is a must for this recipe. Like most pestos, it keeps fine in the fridge.
Ingredients
½ cup dried apricots
1 large bunch cilantro, chopped
½ cup basil, chopped
¼ cup tarragon, chopped
¼ cup chives, chopped
2 scallions, chopped
¼ cup dill
¼ cup parsley
¾ cup walnuts
3 cloves garlic
4 Tbsp lemon juice
Salt to taste
1 tsp Reshampatti flakes
Black pepper, ground, to taste
½ cup cup nut oil
Method
1

Dice apricots into fine cubes. Place in a bowl and barely cover with boiling water. Let stand a few minutes while you prepare the other ingredients.

2

Place drained apricots, chopped herbs, scallions, nuts, lemon juice, salt, and spices in a food processor and purée. Incorporate oil in a continuous stream until the sauce is smooth and lustrous. Taste and salt if necessary.