Picadillo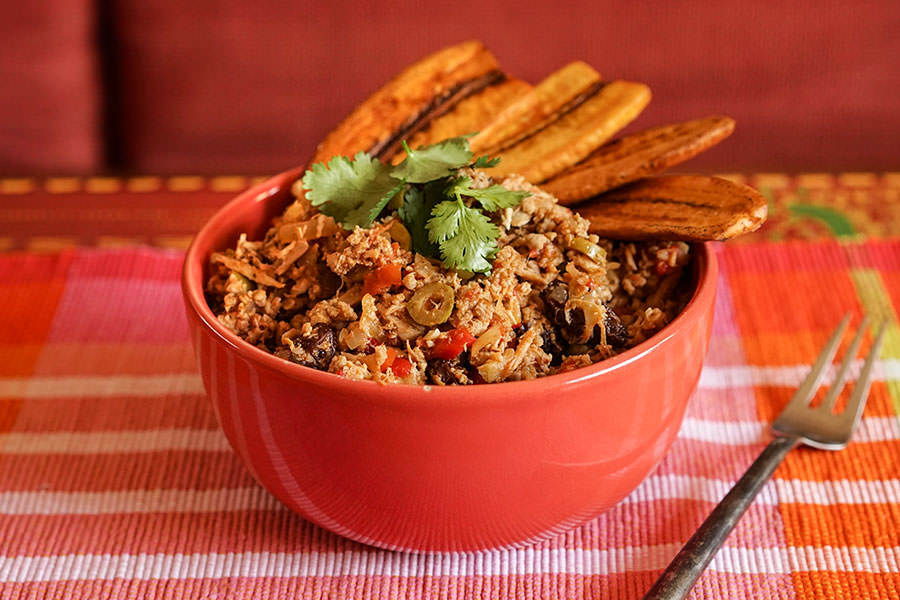 Picadillo is common to many Latin American and Caribbean countries. It can be used to stuff vegetables, but is also great as is.
Ingredients
½ cup olive oil
2 large onions, chopped
1 red pepper, chopped fine
4 cloves garlic, chopped
1 lb beef or ground beef
1 Tbsp cumin, ground
1 tsp oregano
½ tsp cinnamon, ground
Black pepper to taste
Salt to taste
Habanero, minced (opt.)
2 tomatoes
15 green olives
6 Tbsp capers
6 Tbsp raisins
¼ cup cilantro, chopped
Method
1

Place oil, onion and pepper in a bowl and sauté on low heat until onions are translucent, 105-15 minutes. 

2

When onions are cooked, add garlic, meat, cumin, cinnamon, oregano, pepper, salt and chile. Continue cooking and stir, until meat is falling apart and starts to dry out in the pan. 

3

Grate tomatoes and pour pulp into the pan. Sofreir (cook on very low heat without coloring) 12 more minutes.

4

Meanwhile, pit olives and chop. Add olives, capers and raisins. Stir well and continue cooking 10 more minutes. Incorporate cilantro and serve.