Pickled jalapeño peppers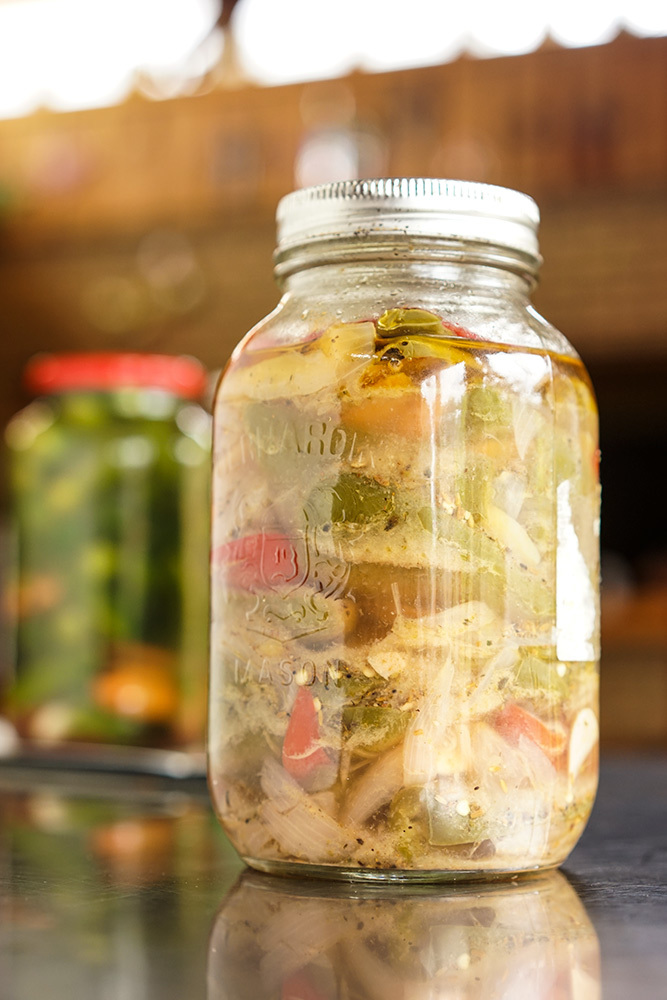 In the largest market of Jalapa (or Xalapa) in Mexico, the homeland of jalapeños, many stalls offer dozens of varieties and versions of these peppers in vinegar. This is our favourite recipe. It keeps several months once refrigerated.
Ingredients
1 lb fresh jalapeños
3 Tbsp salt
3 medium onions 
2 medium carrots
12 garlic cloves
2 tsp black peppercorns
1 Tbsp oregano 
1 Tbsp cumin
6 allspice berries
1 small piece of cinnamon
1 tsp thyme
½ cup olive oil 
2 Tbsp brown sugar 
3-4 cups white vinegar 
Method
1

Wash and cut the peppers into two or four lengthwise, depending on their size. For less heat, remove the seeds partially or completely. Wearing gloves when doing this is highly recommended.




2

Place the cleaned peppers in a bowl and mix with 2 Tbsp salt.




3

Cut the onions and carrots into rings. Slice 8 garlic cloves into large pieces. Place in a bowl and mix with remaining salt.





4

 Allow the peppers and vegetables to rest for half hour.




5

In the meanwhile, place the remaining 4 garlic cloves and spices in a blender with ½ cup water. Pulverize until the spices are finely ground.





6

Heat the oil in a large casserole and pour in the spice paste, once the oil becomes hot. Be careful of splattering oil. Cook for 5 minutes, stirring continually.




7

Remove the onions and carrots from the bowl without throwing out the liquid accumulated at the bottom. Add them to the casserole and cook in the oil until the vegetables are soft.





8

Remove the jalapenos from the bowl without discarding the liquid. Add the peppers and sugar to the casserole and cook for another 5 minutes.




9

Pour enough vinegar to cover the contents of the casserole. Add the pepper and onion juice, bring to a boil and simmer another 10 minutes, stirring occasionally.





10

Remove from the heat and let cool for one hour. Place in a well cleaned jar and cover.