Tex-Mex Rice & Beans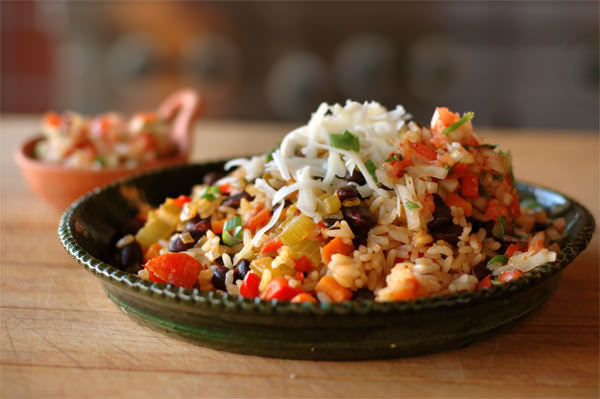 Ingredients
6 Tbsp olive oil
1 onion, chopped
1 celery branch, chopped
1 carrot, diced
1 sweet red pepper, diced
3 garlic cloves, chopped
1 bunch of green onions, chopped
2 Tbsp Tex-Mex spices, ground
2 tomatoes, chopped
2 cups steamed rice
2 cups cooked red beans, strained
3 ½ cups vegetable stock or water
Garnish
Salsa
Grated Cheddar or Monterey Jack cheese
Method
1

Heat a large, heavy pan on medium-high heat.

2

Pour in oil and cook the onion, celery, carrot and pepper. Continue cooking for 4 to 5 minutes until fragrant.

3

Add the garlic, green onion and spices. Stirring often, cook for another 2 minutes.

4

Add the tomato and the rice and mix well. Add the beans and the stock. Taste the liquid and salt to taste.

5

Bring to a boil, cover and reduce the heat to medium-low.  Cook for another 20 minutes.

6

Turn off the heat but leave the pan on the burner. Let rest for 20 to 30 minutes before serving with the accompaniments.