Pistou Pasta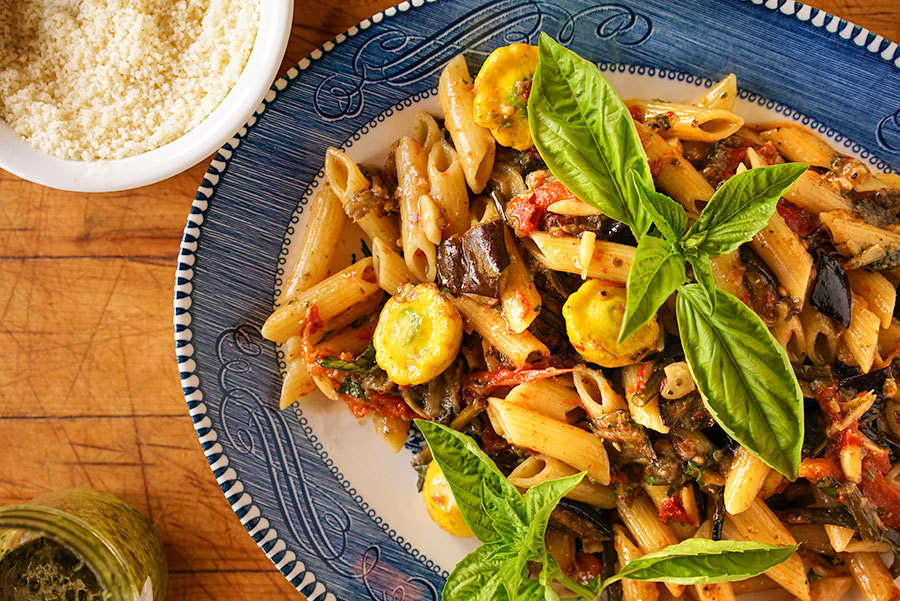 This recipe contains as many (maybe even more) vegetables as pasta. The portions are generous, feel free to adjust according to the number of guests. Provencal pistou is a basilic-based sauce which resembles pesto. We like to serve it with fish, grilled vegetables or even in soup.
Ingredients
2 coloured bell peppers, cubed
2 Italian tomatoes, quartered lengthwise
2 medium egg plants, cubed
4 fresh garlic stems, julienned
20 whole pattypan squashes
1 (450g) pack pasta, penne style
¼ cup olive oil
½ cup almonds, julienned
1 cup cheddar or parmesan cheese
¼ cup pistou
½ cup fresh basilic, chopped
Salt and pepper to taste
Method
1

Roast each vegetable separately with a little olive oil, for 15 to 20 minutes at 450° F.

2

Cook the pasta al dente according to the instructions on the packet, drain then set aside 2 cups of the pasta water for the sauce.

3

Heat half the olive oil, then roast the almonds for 1 minute in the pan used to boil the pasta.

4

Add the cooked pasta, roasted vegetables, pasta water and cheese to the pan.

Cook and continue mixing until the liquid is absorbed by the pasta.

5

Add the remaining olive oil, pistou and fresh basil. Salt and pepper to taste. Mix well and serve.