Pistou soup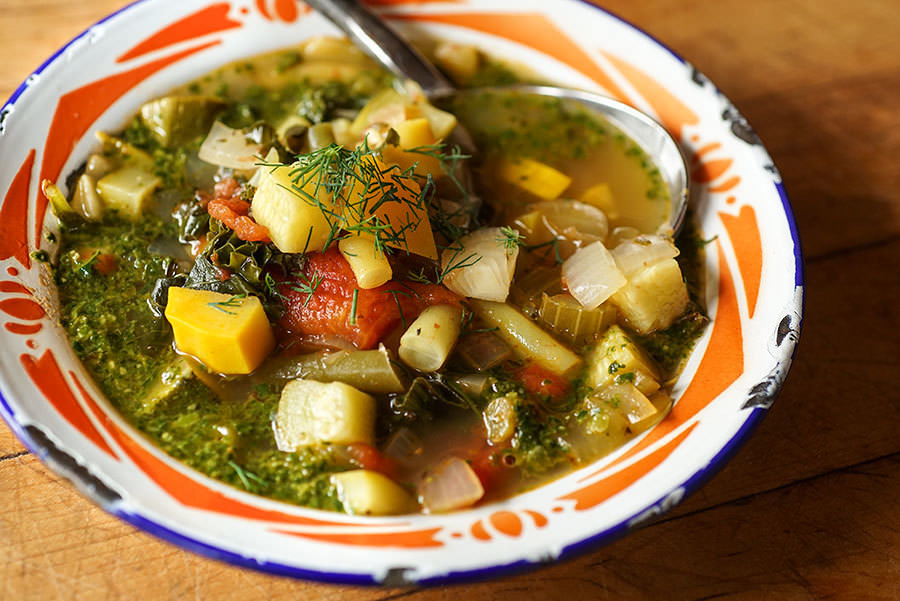 The secret to this soup is having lots of different vegetables diced small. They can, of course, vary according to the season.
Ingredients
6 Tbsp olive oil
3 medium onions, chopped
2 stalks celery, chopped
½ fennel bulb, chopped
2 bay leaves
1 Tbsp Herbes de Provence
1 tsp black pepper, ground
1 cup tomatoes, chopped
2 cups green/yellow beans
2 cups zucchini
2 cups kale or broccoli
2 cups squash
8 cups water
Sel au gout Salt to taste
1 cup pistou (see recipe)
½ cup fennel leaves, chopped
Method
1

Pour oil into a large pot with onions, celery, and fennel. Sauté for 12 minutes on medium-low heat.

2

Add bay leaf, Herbes de Provence, pepper, and tomatoes and cook for five minutes more.

3

Meanwhile, chop vegetables into ½-inch dice. Add water and prepared vegetables to the pot. Increase heat to maximum and bring to a boil. Reduce heat and simmer for 20 minutes.

4

Remove from heat and let rest 5-10 minutes. Incorporate pesto. Taste, then add salt and pepper. Garnish with fennel leaves and serve immediately.