Plum, lemon and poppy seed cake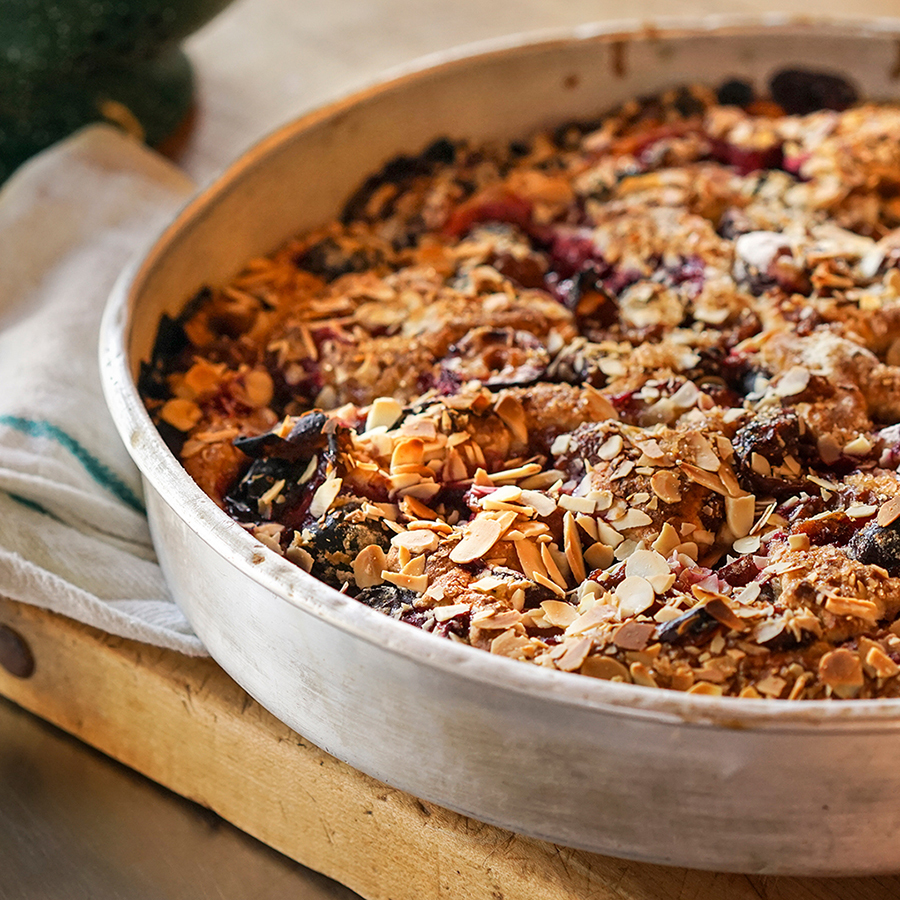 We love Mont-Royal plums, an heirloom variety grown in Quebec, for this recipe, but you can use regular Italian plums too.
Ingredients
½ cup milk
2 Tbsp sugar
Zest of 1 lemon
2 Tbsp honey
1 cup poppy seeds
4 cups plums
2½ Tbsp butter, softened
1/3 cup icing sugar
4 egg yolks
1 egg
1 cup flour
2 tsp baking powder
1½ Tbsp cassia, ground
½ tsp tonka bean, grated or 1 tsp vanilla extract
3 Tbsp sugar
Method
1

Pour half the milk, sugar, lemon zest and poppy seeds into a small pot. Bring to a boil. Remove from heat and cover. Let stand 30 minutes or, overnight in the fridge.

2

Preheat oven to 350° F. Butter and flour a hinged baking mold. Pit plums and place them in the mold.

3

Place butter in a bowl with icing sugar and whip for 2 minutes until creamy. Incorporate egg yolks one at a time, then the whole egg.

4

Sift flour and baking powder into a bowl. Add cassia and tonka bean and mix well with a fork. Pour onto the creamed butter. Add remaining milk and gently incorporate with a spatula. Incorporate the poppy seed mixture, then pour the entire mixture on the plums. Finally, sprinkle 3 Tbsp sugar on top of the batter.

5

Bake for 35-45 minutes until the plums let their juice and the top of the cake is golden brown.

6

Let cool at least an hour before serving.