Plum Pudding with Seven Christmas Spices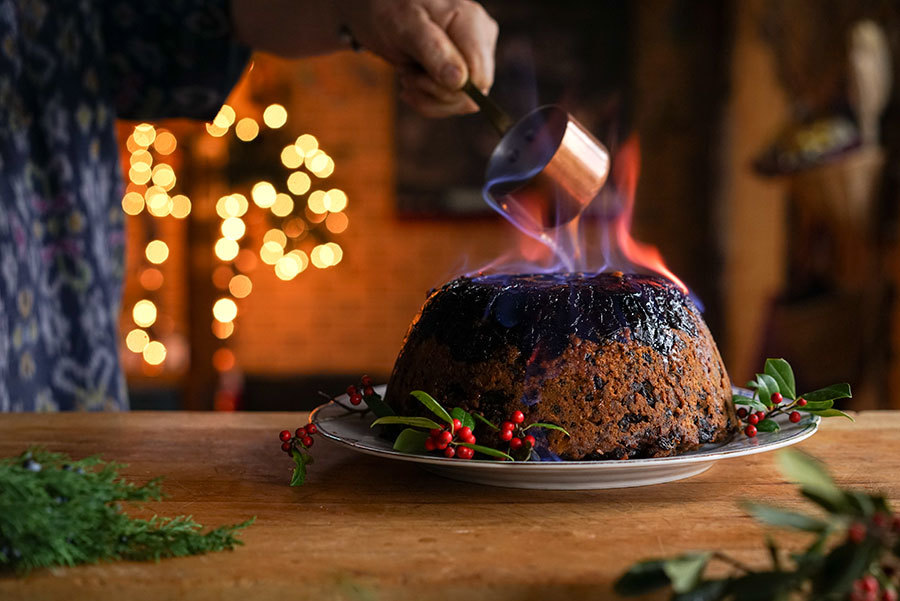 We've made a real Quebecois version of this English classic by including typical Quebec ingredients, like maple syrup, buckwheat flour, ice cider and molasses. We've even added prunes, even if most modern plum pudding recipes don't include it.
This pudding is cooked in a large pot that's brought to a boil. It can also be cooked in a slow cooker on high. The cooking time varies according to the size of the mold you use, but it should be around 4 hours. The pudding is cooked when a toothpick inserted in the center comes out clean.
Ingredients
½ lb suet or butter
¼ tonka bean (opt.)
1 mace blade
1 inch cinnamon
4 cloves
10 black peppercorns
4 cardamom pods
5 allspice berries
½ cup candied orange peel
1 cup Corinth raisins
1 cup Thompson raisins
1 cup sultana raisins
¾ cup buckwheat flour
1 cup breadcrumbs
1 cup almond powder
1 tsp baking powder
1 pinch salt
3 eggs
¾ cup maple syrup
¼ cup molasses
¾ cup ice cider or sweet wine
2 tsp vanilla extract
Butter for the mold
1 cup pitted prunes
¾ cup rum
Method
1

Mince suet finely or grate cold butter with a cheese grater.


2

Grind spices.

3

Place suet in a large bowl and add dried fruit (except prunes), buckwheat flour, breadcrumbs, almond powder, baking powder, salt and ground spices. Mix well by hand.

4

Place eggs, maple syrup, molasses, and ice cider in another bowl. Beat well until homogeneous.


5

Pour egg mixture onto the dry ingredients. Incorporate with a flexible spatula without overmixing. The consistency should resemble a muffin batter. Add a little more ice cider if necessary.

6

Generously butter a pudding mold or other deep mold. Spread prunes evenly on the bottom of the mold. Gently pour the batter onto the prunes. Level it out and cover with two sheets of aluminum foil. Seal it well and tie it all together with kitchen twine.

7

Place a small grate or a kitchen rag folded into eighths on the bottom of a pot large enough to accommodate the pudding mold. Fill the pot with water up to two thirds the level of the mold. Cover and bring to a boil.

8

Cook for 4 hours as soon as steam begins to escape from the cover. Check the pot from time to time to ensure enough water remains and add boiling water if needed.

9

Let cool an hour before removing from the mold in order to serve it cool.

Unmold the pudding on a large plate. Lightly heat the rum in a large pot with a long handle. Once it starts to simmer, carefully lite it on fire. Pour over the pudding. Serve with maple butter.