Poached pears with mastic, saffron and mandarin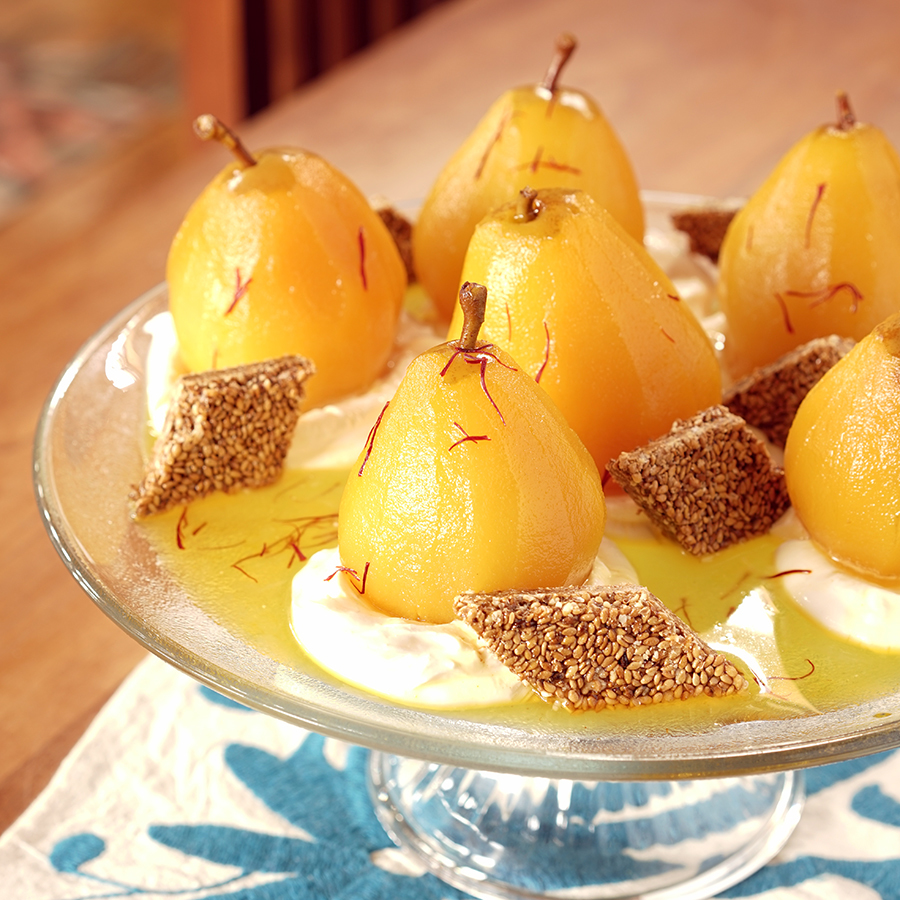 A recipe inspired by a trip to Chios – one of our favourite Greek islands. If you wish to bypass making the sesame crisps, feel free to use those found in convenience stores, such as sesame snaps.
Ingredients
Sesame crisps
Method
1

Place the mastic and 2 Tbsp sugar in a mortar and grind.

2

Put water, ground mastic, remaining sugar and saffron into a pan.

3

Squeeze the juice of the mandarin and add to the pan with a 1-inch x 1-inch sliver of mandarin peel. Heat on medium.

4

Peel the pears and place them into the hot syrup. Place a paper towel on top and let froth until the pears are tender (15–30 minutes depending on their texture).

5

Remove from the heat and let rest for at least a few hours or a few days, refrigerated.

6

Mix the sour cream and honey in a small bowl.

7

Set aside 6 bowls and garnish with a little sour cream on the bottom. Place one pear on top of each bowl. Delicately pour pear syrup into each bowl. Garnish with a sesame crisp and a mandarin section, or simply garnish with chopped pistachios.
Sesame crisps
1

Line a baking sheet with parchment paper. Heat a small pan on medium-high. Add the sesame seeds and roast, stirring constantly with a spatula until golden (3 to 4 minutes). Add the sugar and mix well (the sugar should begin to melt immediately). Pour in the honey and continue mixing for 30 seconds to incorporate.

2

Pour on to a baking sheet and spread well. Flatten using a spatula to make and even layer. Let cool for 15 minutes. Break into pieces and keep in a jar if you don't use immediately (or if you don't eat the leftovers!).