Pork with quince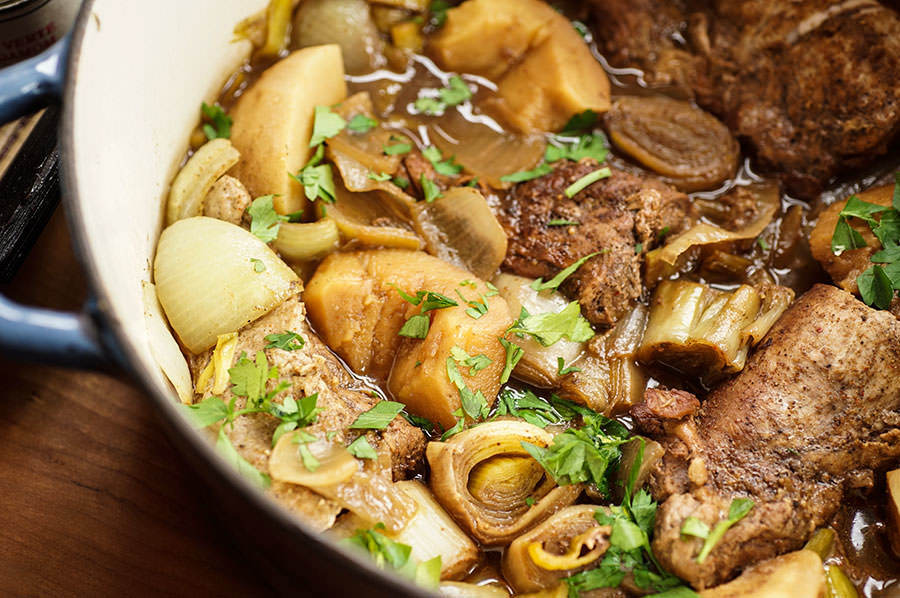 u can use other cuts of pork, like shoulder, but they take longer to cook. If you do use other cuts of meat, add the quince halfway into cooking.
Ingredients
2 pork tenderloins, about 12 oz each
Salt to taste
1 tsp cumin
Black pepper to taste
¼ tsp nutmeg, grated
½ tsp Reshampatti pepper or Cayenne
3 Tbsp olive oil or clarified butter
2 medium onions
1 medium leek
3 quinces or green apples
¾ cup water or white wine
2 Tbsp wine vinegar or pomegranate molasses
2 Tbsp honey
¼ cup parsley, chopped
Method
1

Rinse pork and dry with a paper towel. Grind spices. Salt to taste and season with half the spices.

2

Chop onions and leeks into 1-inch pieces. Place them in a cast-iron enamel pot with oil and sweat them for 5 minutes along with the remaining spices and salt.

3

Place pork on top of the vegetables and cook for a few until golden. Meanwhile, peel quince, remove heart, and quarter it. Place quince quarters around the pork. Add water and vinegar.  

4

Bring to a boil. Continue cooking on very low heat for around 45 minutes, until the pork and quince is cooked. Alternatively, you can cook it, covered, in an oven set to 325 °F.

5

Pour in honey around the end of cooking and gently shake the pot to incorporate it into the cooking juices. Let stand 15-30 minutes before serving. Garnish with parsley.