Pork and Peanut Chow Mein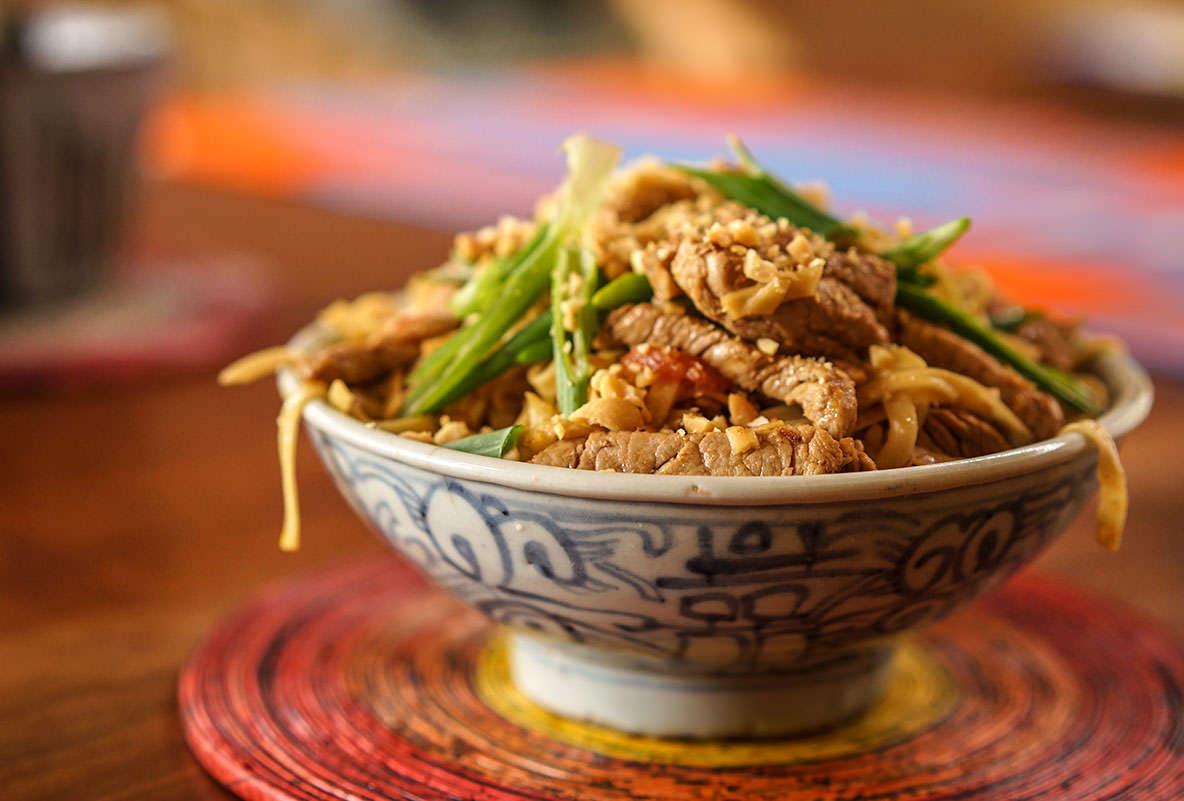 Everybody loves a Chow Mein, and this one is made especially easy by using our Satay Spices blend.
Ingredients
1 package (½ lb) chow mein noodles
5 oz pork shoulder or filet
½ cup shelled peanuts, whole
½ cup vegetable oil
2 garlic cloves, chopped
4 shallots, chopped
2 Tbsp nam prik*
2 hot chilies, finely chopped
1 Tbsp Satay Spices, ground
1 tomato, chopped
1 Tbsp brown sugar
2 Tbsp soya sauce
1 bunch garlic chives or green onions
*Thai chili, soy and shrimp paste (you can substitute 1 tbsp fish sauce)
Method
1

Cook the noodles for 2 minutes in boiling salted water. Drain and rinse in cold water. Set aside.

2

Cut the pork into short, thin strips (julienne) and set aside.

3

Heat the oil in a wok on medium heat and fry the peanuts until brown (1–2 minutes). Remove with a slotted spoon and reserve the oil.

4

Once cooled, chop the peanuts coarsely and set aside.

5

Heat the wok with half of the reserved oil, add the garlic, shallots, nam prik, chilies and spices. Cook on high heat for 1 minute.

6

Add the pork and sauté for 1 minute. Then incorporate the tomatoes, sugar and soya sauce. Cook for 1 or 2 more minutes.

7

Add the cooked noodles, and stir-fry for 2 more minutes.

8

Cut the garlic chives into 1-inch sections, add them to the wok along with the peanuts. Mix well and serve immediately.