Pork Hocks and Meatball Ragout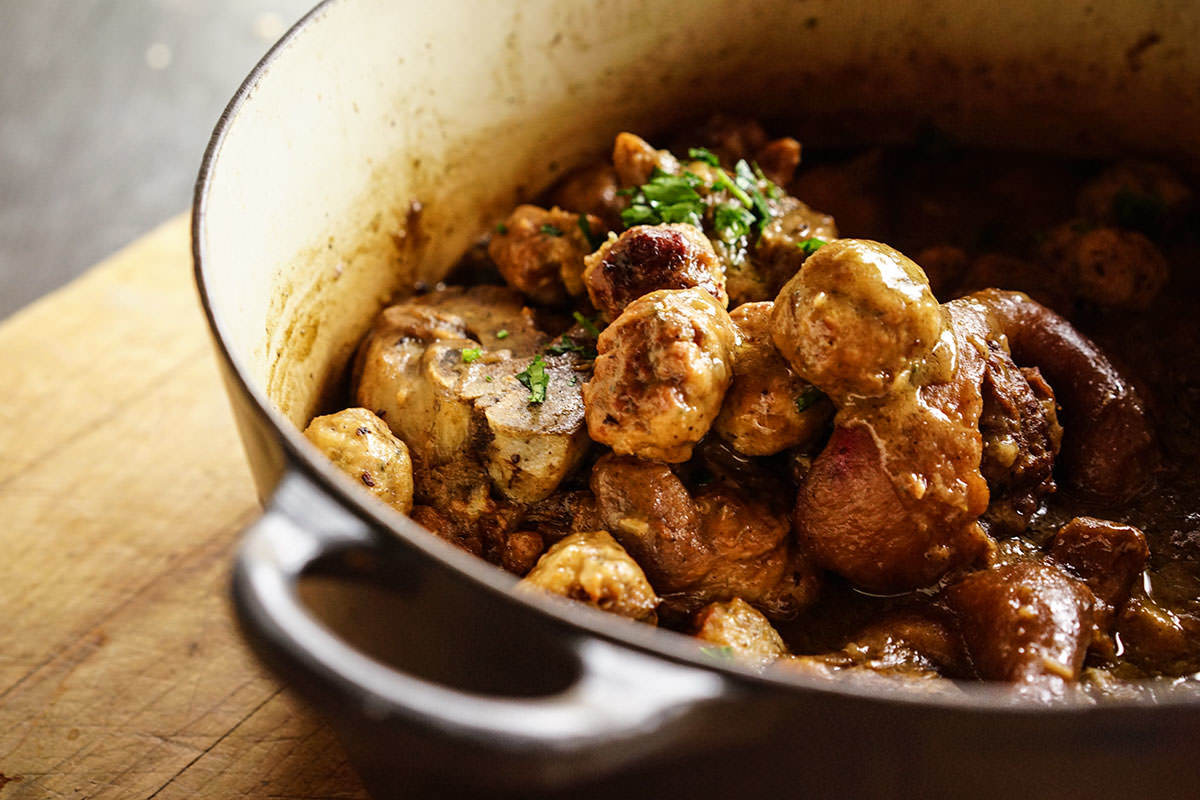 This is one of Quebec's most emblematic and beloved traditional dishes. We usually leave the pork hocks whole, but shredding them and putting them back in the sauce is an option. 
Ingrédients
2 pork hocks, cut in large pieces
2 onions, finely chopped
1 Tsbp Stew spices, ground
Salt to taste
2 slices stale bread
½ cup milk
1 egg, beaten
1 Tbsp Quebec Herb blend (or other herb blend)
2 lb(1kg) half lean minced pork
2 tsp salt
Freshly grouded pepper, to taste
Flour to roll the meatballs
Fat or oil for browning meatballs
¼ cup roasted flour *
Method
1

Wash hocks well and sponge dry. Remove some fat from the pork and let melt in a heavy pan on low heat.

2

Add hocks to the melted fat and brown them on all sides, on medium heat (10-15 minutes).

3

Remove the meat from the pan and set aside. Add onions and Ragout spices to the pan. Cook for 2-3 minutes, stirring often.

4

Return the meat, add 1 tsp salt and cover with water. Bring to a boil, cover and let stew on low heat. Stir once in a while until the meat becomes tender (1 ½ to 2 hours).

5

Meanwhile, prepare the meatballs. Tear the bread into pieces, place in a bowl and pour the milk. Let rest for 5 minutes.

6

Add the beaten egg, onion and herbs. Mix well then incorporate the meat, pepper and salt until everything becomes homogenous.

7

Roll the meatballs into the same size. Cover lightly in flour then brown them in a pan with some fat on medium heat. Don't cook too many meatballs at the same time, it is better to brown them slowly, in small batches.

8

Once the hocks are ready, mix ¼ cup of browned flour in a little cold water and incorporate it into the stew. Mix well; add the meatballs and boiling water if needed. Bring the sauce to a boil; add more diluted roasted flour to thicken, if necessary.

9

Simmer slowly for half hour. Serve with steamed potatoes garnished with chopped parsley.
*Browning flour:  heat oven to 350°F.  Sprinkle evenly 1 cup of flour on a baking sheet and cook in the oven until well browned (7 to 10 minutes). Be careful: remain attentive, especially towards the end because the flour can brown very quickly. Roasted flour keeps well in a hermetically sealed container.