Pork Steak with Wild Herbs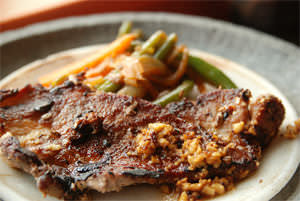 Pork shoulder is fatty yet tender. Cooking it on high heat helps to get rid of some of the fat and caramelizes the delightful spices.
Method
1

In a mortar and pestle, blend the cumin, herbs, chilies, salt and pepper. Use this blend to season the pork.

2

In a large, heavy pan, heat the oil on medium heat. Cook the pork for 3-4 minutes without turning over.

3

Turn over the pork and continue cooking until pink meat juices appear on the surface of the pork (2-3 min.)

4

Sprinkle the chopped garlic onto the slices of pork to lightly brown for aprox. 30 seconds. Add the lemon juice or vinegar. Shake the pan well and serve immediately.