Pot-au-feu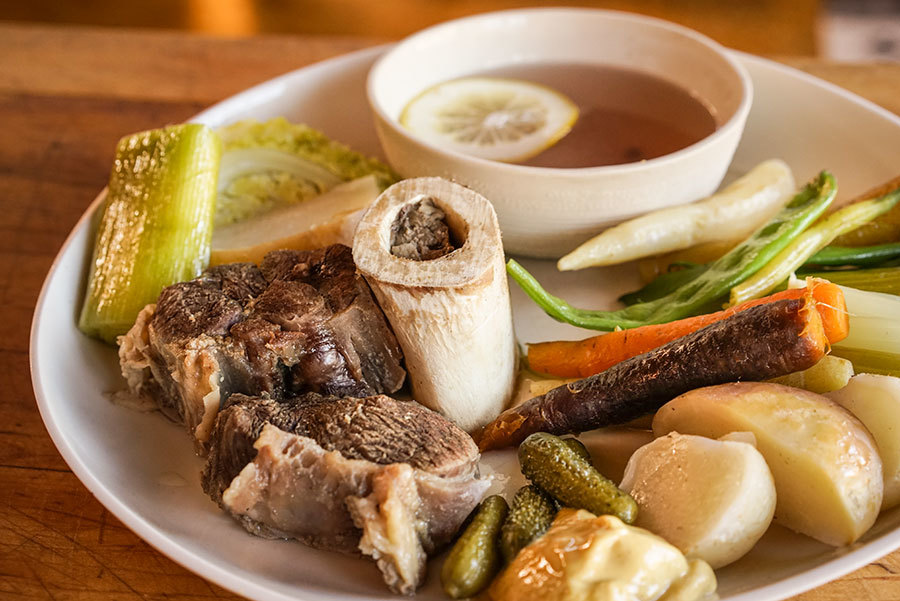 Pot-au-feu is not traditionally salted during cooking. Each diner can salt their soup, vegetables, and meat to their liking. Of course, the marrow salted with a large, crunchy sea salt is the most prized.
Ingredients
5 lb beef shank, sliced, with bones and marrow
1 carrot
1 onion studded with 4 cloves
2 stalks celery
1 bunch parsley
4 cloves garlic
1 tsp thyme
1 tsp whole black peppercorns
12 cups seasonal vegetables: cabbage, turnip, green beans, carrots, leeks, small onions, etc.
Garnishes
1 lemon
Large sea salt on a small plate
Dijon mustard
Small cornichon pickles
Method
1

Rinse the beef in cold running water and place in a large pot with 20 cups of water. Bring to a boil and skim. Add carrot, onion with cloves, celery and parsley stems, garlic and spices. Reduce heat and simmer for 1 hour 45 minutes.

2

Remove the parsley, carrot, studded onion, garlic and celery. Add raw vegetables, starting with the ones that take the longest to cook.  

3

Add tender vegetables 15 minutes later. Remove from heat when vegetables are cooked.

4

Pour the stock into bowls and garnish with parsley and lemon wedges. Place the meat and vegetables on plates or a large platter. Serve with salt, mustard, and cornichon pickles.