Potato and Tomato Gratin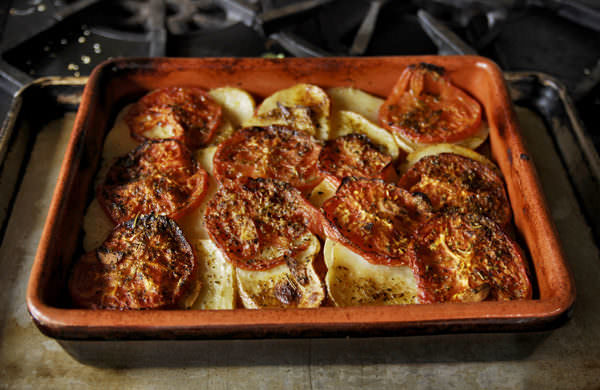 We like to used different spice blends to make this potato and tomato gratin. It is really good with tex-mex spices and or Trinidad curry.
Ingredients
1kg/2lbs firm tomatoes
1kg/2lbs new potatoes
6 garlic cloves, chopped
Salt, pepper
1 ½ Tbsp Little Italy spices
½ cup virgin olive oil
Method
1

2

Heat the oven to 425ºF.

3

Cut the tomatoes and potatoes in 1cm (⅓ inch) thick slices.

4

Pour and spread half the oil into an oven proof dish.

5

Spread half the potatoes, half the tomatoes, garlic and spices in the dish – salt and pepper.

6

Repeat with the remaining ingredients. Pour the remaining olive oil and enough water to cover the second layer of potatoes.

7

Place the dish in the oven and cook for ½ hour at 425ºF.

8

Reduce the oven to 375ºF for another 20 to 30 minutes until the liquid has evaporated and the potatoes are tender.

9

Let rest for 20 minutes before serving or serve at room temperature.