Chicken with fennel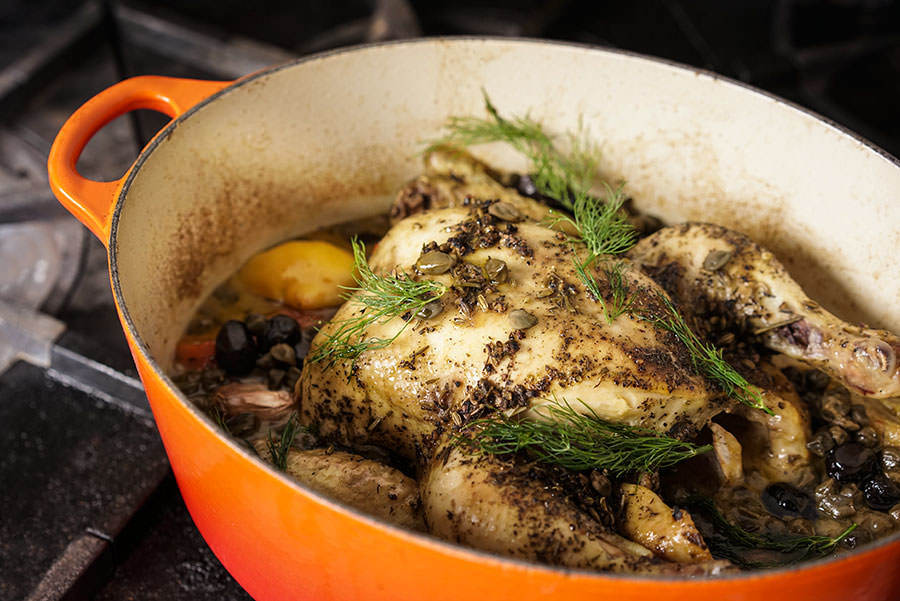 If you have time to leave the salted chicken in the fridge (between 12 and 24 hours), it'll be even more flavorful.
Ingredients
1 whole chicken 3 ½ - 4 lbs
2 Tbsp salt
2 Tbsp Mediterranean Herbs
1 tsp fennel seed
1 tsp black pepper
6 Tbsp fruity olive oil
2 fennel bulbs
3 medium tomatoes
1 lemon
3 Tbsp olive oil
8 cloves garlic
1 glass white wine or vermouth
15 olives
4 Tbsp capers
Method
1

Rinse chicken and dry with a paper towel. Rub salt over chicken and season with herbs and spices.

2

Quarter fennel, tomatoes and lemon. Place fennel and lemon and tomatoes in a cast-iron enamel pot with half the olive oil and sweat for 5 minutes.

3

Place chicken on the vegetables. Place garlic, unpeeled, around the chicken and pour in the wine.

4

Bring to a boil. Continue cooking on very low heat 1 ½ hour, until the chicken is cooked. Alternatively, you can cook it, covered, in an oven set to 325 °F.

5

Add the rest of the olive oil, olives and capers near the end of cooking. Let rest 15 to 30 minutes before cooking. Garnish with fennel leaves if you have any.