BBQ chicken with bacon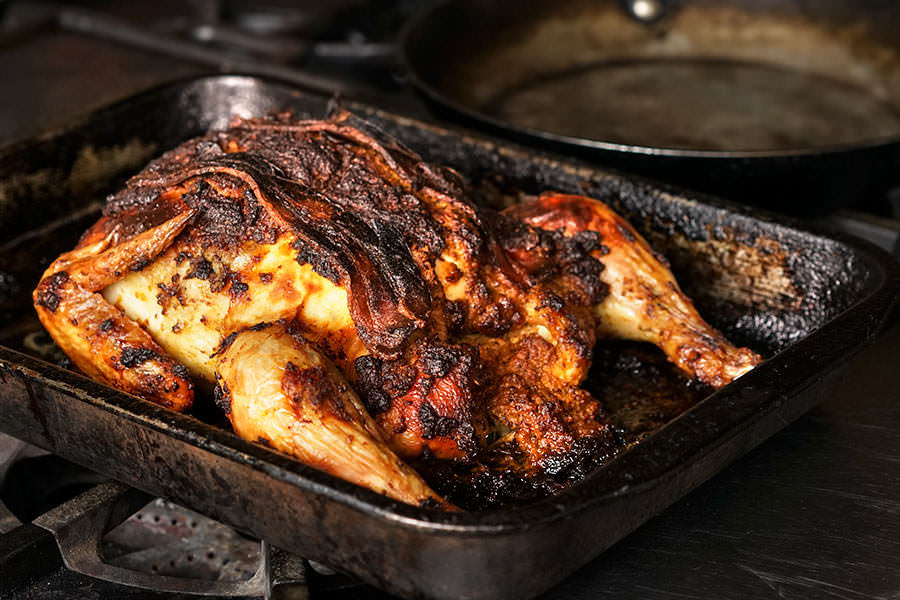 This chicken roasted with Cajun Spices is great with our Classic BBQ blend or even Staff BBQ. Use organic bacon if you can find it- it's usually much less fatty and higher quality.
Ingredients
1 whole chicken, between 2½ à 3 lbs
6 slices bacon
4 cloves garlic
1 Tbsp Cajun Spice, ground
1 tsp oregano
1 tsp cinnamon, ground
1 tsp black pepper, ground
4 allspice berries, ground
1 tsp salt
2 Tbsp wine vinegar
¼ cup Dijon mustard
¼ cup tomato paste
4 Tbsp coconut oil or clarified butter, melted
Method
1

Wash chicken in running water. Dry thoroughly with a paper towel.

2

Chop 4 slices of bacon. Place the bacon pieces and remaining ingredients into a food processor and reduce to a paste. Put chicken in a bowl and rub thoroughly with the marinade, inside and out. Place remaining two slices of bacon on top of the chicken. Cover and marinate in the fridge for 12-24 hours before moving to the next step.

3

Remove chicken from the fridge 1 hour before cooking. Preheat oven to 325°F.

4

Place chicken on a roasting dish and roast for 2 hours. The leg meat should be 175°F.

5

Let rest for 20 minutes before cutting.