One thousand and one nights roast Cornish hen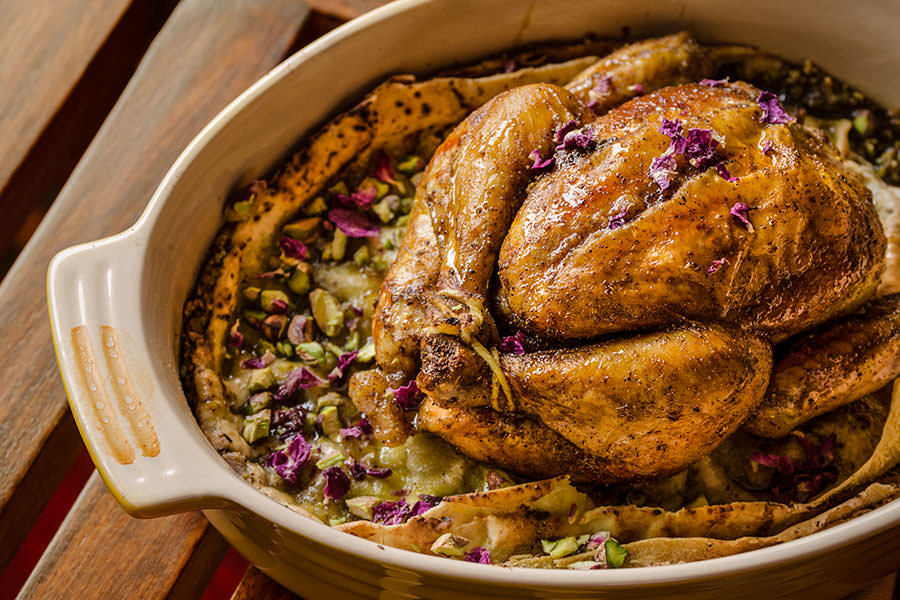 The spice blend used in this recipe was inspired by Arabic medieval cooking, and this roast Cornish hen recipe is representative of the culinary style of the era.
The cooking juices from the hen are absorbed by a sweet and sour "pudding" made of bread and nuts which, itself, is a delicious side dish.
Cornish Hen
Pudding
½ cup almonds or pistachios
¼ cup sugar
dash of rose water
salt to taste
2 very thin pita breads
4 Tbsp honey
2 Tbsp plain sesame oil or butter
Garnish
fresh mint leaves
2 Tbsp pistachios
2 Tbsp pomegranate seeds or rose petals
Method
1

Rub hen with spices and salt. Set aside for 1 hour.

2

Meanwhile, prepare the pudding. Grind almonds, sugar, rose water and a generous pinch of salt in a food processor.

3

Oil a baking dish the size of the pita bread. Split pita in two and place one half in the pan and garnish with one-third of the pudding mix. Repeat the procedure two more times, finishing with the last half of pita. Barely cover with water. Add honey and butter.

4

Put a rack on the baking dish and place seasoned chicken on top. Roast for 45 minutes at 375°F.

5

Remove from oven and let rest for 15 minutes. Cut chicken into pieces and set on the remaining pudding. Garnish with mint, pistachios and pomegranate seeds or rose petals. Add a few drops of rose water and a drizzle of honey on the hen (optional). Serve.