Chicken with 40 cloves of garlic and artichokes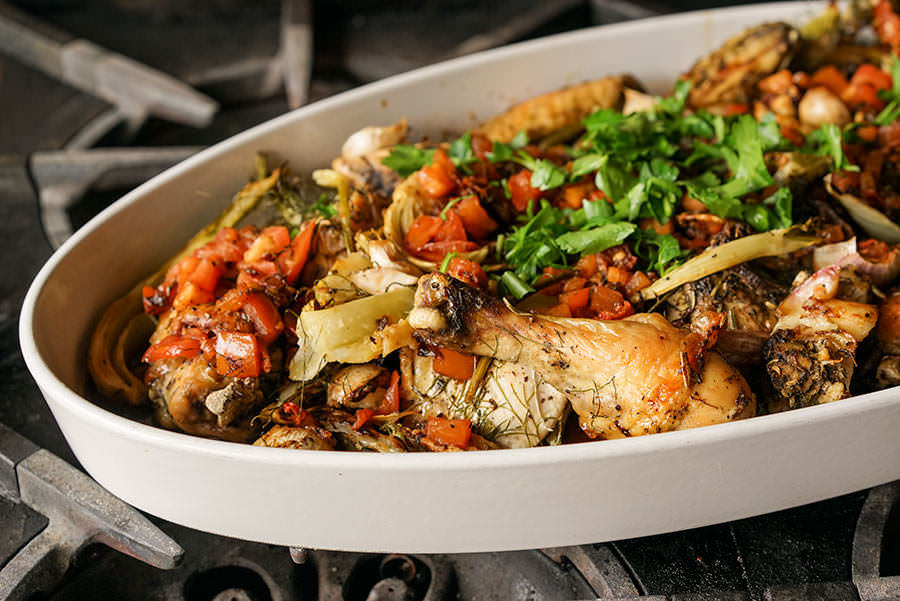 We never tire of this southern French classic and its innumerable variations.
Ingredients
1 chicken
6 medium artichokes and/or 1 fennel bulb
40 cloves garlic, skin-on
2 Tbsp Herbes de Provence
2 tsp fennel seed
1 tsp black pepper
1 tsp salt
1 lemon
6 Tbsp olive oil
1 glass white wine
1 hint nutmeg
1 cubes tomato, diced
½ cup parsley, chopped
Method
1

Preheat oven to 325°F. Wash chicken in cold water. Dry thoroughly with a paper towel. Chop into 8 pieces. Place in a bowl.

2

Remove tough leaves from artichokes. Halve them and remove choke with a small spoon. Rinse in cold water and place in the bowl with the chicken. Add garlic, herbs, spices and salt to the bowl. Remove zest from lemon with a peeler and place in the bowl. Add half the lemon juice. Add 4 tablespoons of olive oil and stir well.

3

Spread chicken pieces and vegetables on a baking tray, spaced to they do not touch. Roast for around 1½ hours.

4

Remove baking tray from oven. Place chicken and vegetables on a plate. Put baking tray on the stove over medium heat. Add wine, nutmeg, remaining lemon juice and diced tomatoes. Deglaze the pan by scraping it with a spatula and reducing the juice a little.

5

Pour the sauce over the chicken and garnish with chopped parsley.