Provençal Pork Roast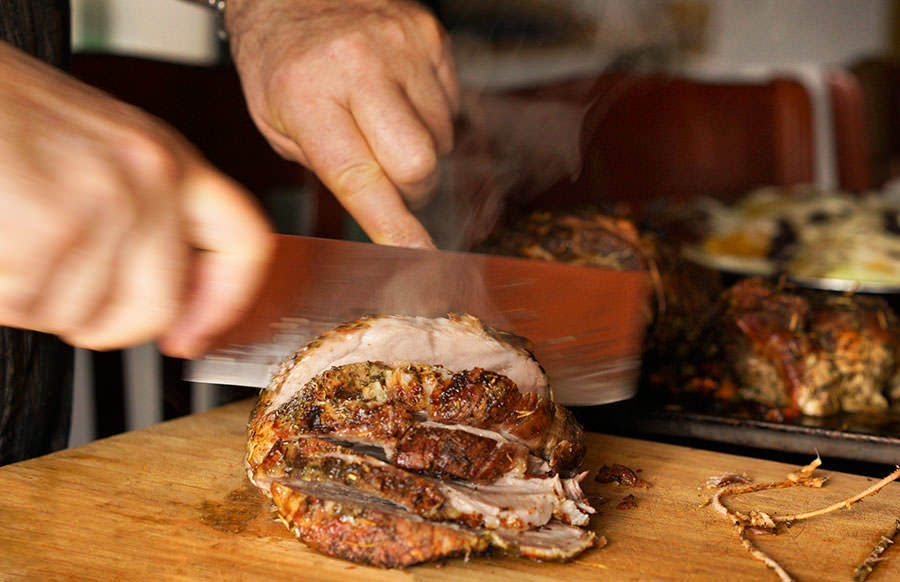 Pork shoulder is a piece of meat that is at once delicious and economical. With a heartily fragrant herb blend in hand, it's pretty much impossible to fail with this recipe.
Ingredients
1 pork shoulder (4 lb)
4 cloves garlic
2 Tbsp salt
Pepper, to taste
1 carrot
1 onion
1 stalk celery
2 Tbsp olive oil
½ cup water
½ cup white wine
Method
1

Preheat oven to 375 °F.

2

Slice the garlic into strips.

3

With a small, pointy knife, make several incisions around the pork. Insert a strip of garlic into each incision.

4

Salt the pork and rub the herbs all over.

5

Cut the vegetable into 2 inch pieces and place them in a roasting pan.

6

Place the pork roast over the vegetables, cover with olive oil and put it in the oven.

7

Cook for about 1 hour 45 minutes.

8

Add the wine and water to the roasting dish and return to the oven for around 15 minutes.

9

Let stand 15-20 minutes before slicing.