Provence-style chicken stir-fry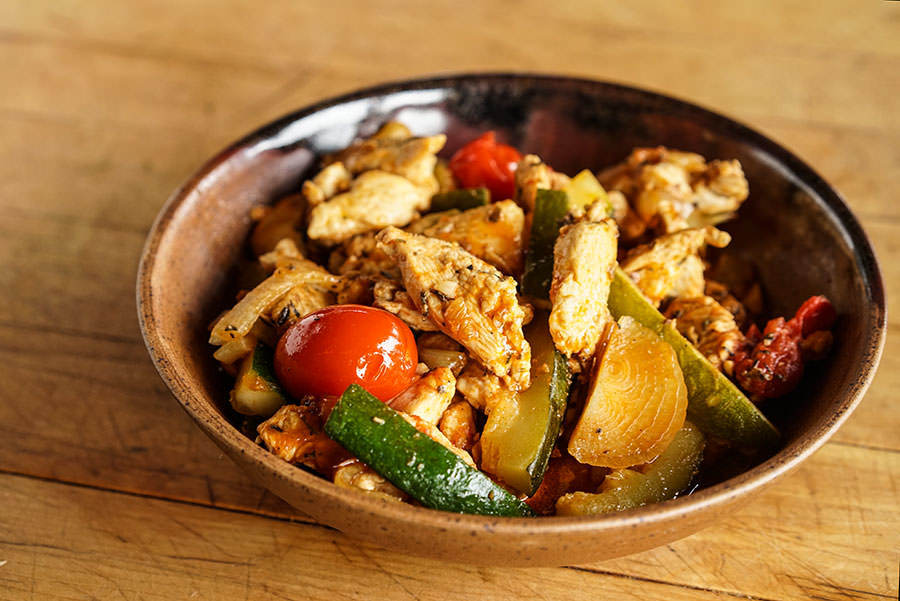 In this sautéed chicken recipe, we prefer coconut oil, since it can handle heat better than olive oil. However, if you want to give a Provençale feel to it, we recommend splashing on your favorite olive oil at the end.
Ingredients
1 ½ lb deboned chicken
2 onions
2 medium zucchini
4 coconut oil
½ tsp fennel seed
Salt and pepper to taste
12 cherry tomatoes
4 cloves garlic
2 tsp Herbes de Provence
½ cup white wine
2 Tbsp tomato paste (opt.)
2 Tbsp olive oil
Parsley or basil for garnish
Method
1

Slice chicken into ½-inch x ½-inch x 2-inch strips. Set aside.

2

Chop onion into ½-inch slices. Slice zucchini into ½-inch matchsticks.

3

Heat a wok or large cast-iron pan on medium. Add half the coconut oil, onions and fennel seed and sauté for 2 minutes. Add the zucchini, salt and pepper and sauté 2 minutes. Add tomatoes and cook 1-2 minutes more, the time it takes for the tomatoes to start to come apart. Transfer everything in the wok to a plate.

4

Return wok to the heat without cleaning it. Increase heat a notch or two. Add remaining coconut oil, garlic, Herbes de Provence and chicken. Sauté 2-3 minutes, the time it takes for the chicken to color. Incorporate wine and tomato paste. Simmer 1 minute. Return vegetables to the wok with a splash of olive oil. Cook 1 minute more. Serve garnished with chopped parsley or basil.