Pumpkin Seed Scones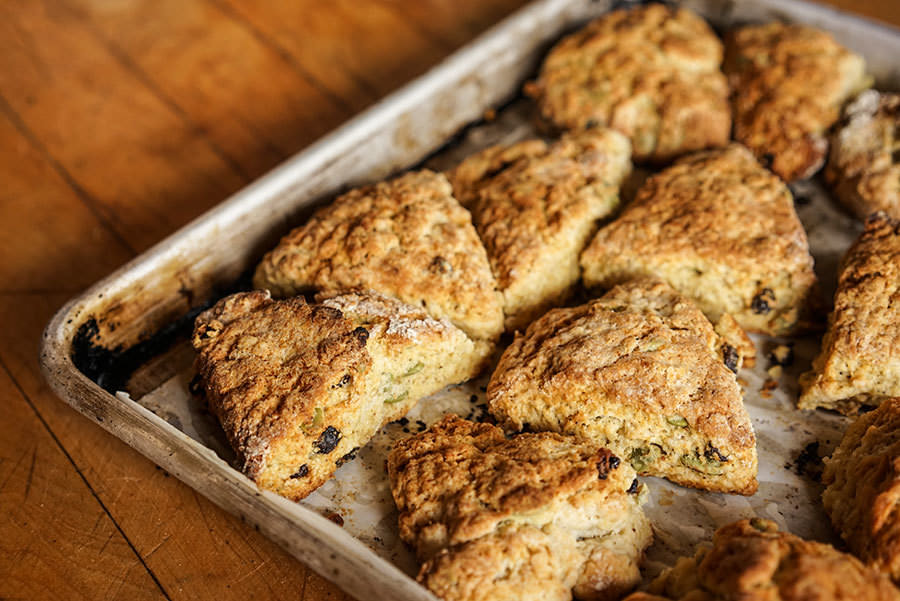 These spiced scones are the perfect accompaniment to an afternoon tea or hot cup of coffee. We like them with brunch or even, with some cheese, as a quick breakfast.
Makes 18 scones.
Ingredients
3 cups flour
1 Tbsp baking powder
½ tsp baking soda
1 pinch salt
2 Tbsp Pumpkin Pie Spice, ground
¾ cup sugar
¾ cup cold butter, cubed
½ cup pumpkin seeds
½ cup raisins
1¼ cup buttermilk
¼ cup melted butter
Method
1

Preheat oven to 450 °F.

2

In a food processor, pulse flour, baking powder, baking soda, salt, spices, and sugar together until evenly mixed.

3

Add butter to dry mix and combine in several pulses until the butter is formed into small, pea-shaped pieces.

4

Transfer the mix to a large bowl.

5

Add pumpkin seeds and raisins. Stir.

6

Add buttermilk and incorporate very gently, just enough to let the flour.

7

Roll the dough on a floured work surface to a rectangle about 4 cm thick.

8

Using a knife or cookie cutter, cut into pieces and transfer to a baking tray.

9

Brush each scone with melted butter and bake for 13 to 15 minutes, until the scones are a deep golden brown on top.