Pumpkin Spice Buns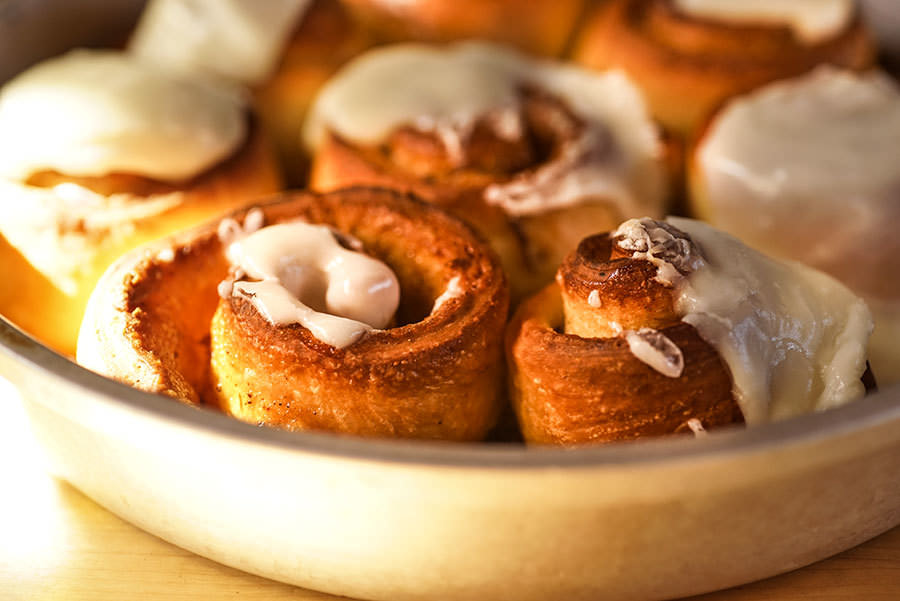 An autumnal twist on classic cinnamon buns. The sumptuous cream cheese icing makes this breakfast classic a real dessert as well.
Dough
3 Eggs
⅓ cup packed brown sugar
¾ cup buttermilk
½ tsp salt
1 packet instant yeast
6 Tbsp butter, melted
4 cups all-purpose flour
Filling
Icing
4 oz cream cheese, softened
½ cups icing sugar
1 tsp vanilla extract
1 tsp milk (opt.)
Dough
1

Beat eggs in a large bowl until smooth. Add sugar, buttermilk, salt, yeast, and butter. Whisk until smooth and mostly homogeneous. Add flour to egg mixture and stir with a wooden spoon until the dough turns into a ball.

2

Place the dough on a floured surface and knead until smooth and silky, around 2 minutes. Return to the large bowl and cover loosely in plastic wrap. Let rise until doubled in volume, around 2 hours.
Filling
1

Stir softened butter, spices, and sugar together in a bowl until mixture forms a homogeneous paste. Set aside.
Rolls
1

When dough has risen enough, place it on a floured surface and roll out into an 18-inch square, about ½ inch thick. Ensure the sides are even by cutting around the edges to remove any excess to dough.

2

Spread spice and butter mixture evenly across the dough, leaving ½-inch margins on all sides. Roll dough into a cylinder and pinch the edge so it stays shut. Slice into 8 or 10 rolls, depending on desired thickness.

3

Lay rolls in a greased roasting pan and let rise an additional 2 hours at room temperature. Alternatively, you can lay them in the pan, cover in plastic wrap, and let rise in fridge overnight.

4

When buns have risen, preheat oven to 350°F. Place in oven and bake until golden brown, around 20 minutes.

5

While buns are baking, whisk softened butter, cream cheese, icing sugar, and vanilla together in a bowl until smooth.

6

Remove buns from oven and spread half the icing on immediately. Let cool 5 minutes and spread on remaining icing.