Pumpkin Spice Roasted Pork with Fall Vegetables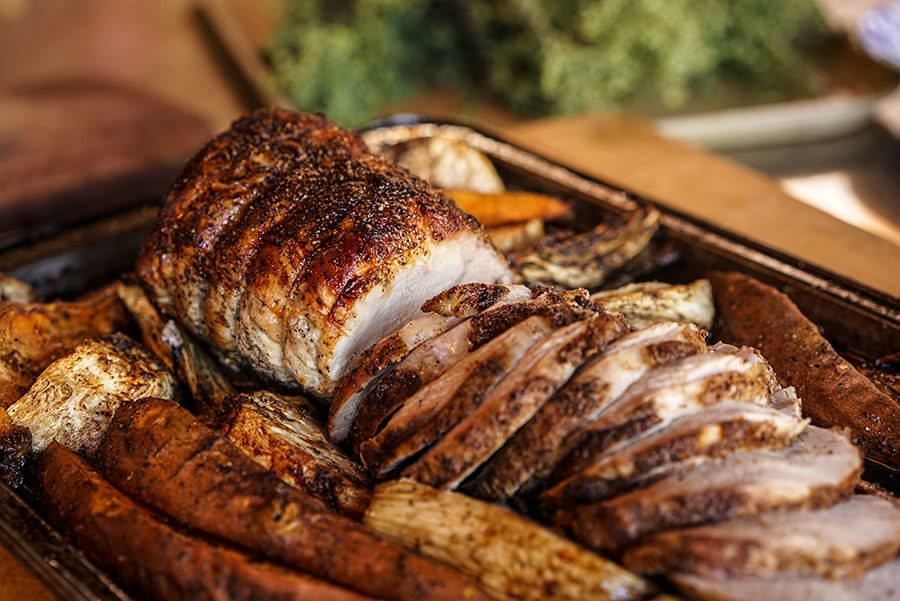 Pumpkin Pie Spice is not just for desserts (it's not even exclusive to just pumpkin and squash), and here's the proof! Pumpkin Pie Spice's combination of cinnamon, pepper, and nutmeg is perfect in salty/sweet dishes like this one.

This comforting recipe bursts with fall flavors. The low temperature preserves the pork's juices and ensures the brown sugar caramelizes gently.
Ingredients
2-3 lbs. pork roast
2 Tbsp Pumpkin Pie Spice, ground
2 Tbsp coarse salt
4 Tbsp brown sugar
1 medium celery root
2 sweet potatoes
1 fennel bulb
¼ cup olive oil
Method
1

Preheat oven to 325 °F.

2

Mix spices, salt, and sugar in a bowl.

3

Peel and clean celery root, sweet potatoes, and fennel. Slice into large, even pieces.

4

Place vegetables in a large bowl and add half the spices and olive oil. Mix well and spread on a roasting tray.

5

Rub the roast with ¼ of the spices. Place the pork on the vegetables and spread the remaining spices on the pork.

6

Roast for 2 hours in the oven. Baste the meat and vegetables with the cooking juice from time to time.

7

Remove from oven and let rest for 30 minutes before serving.