Quebec Cipate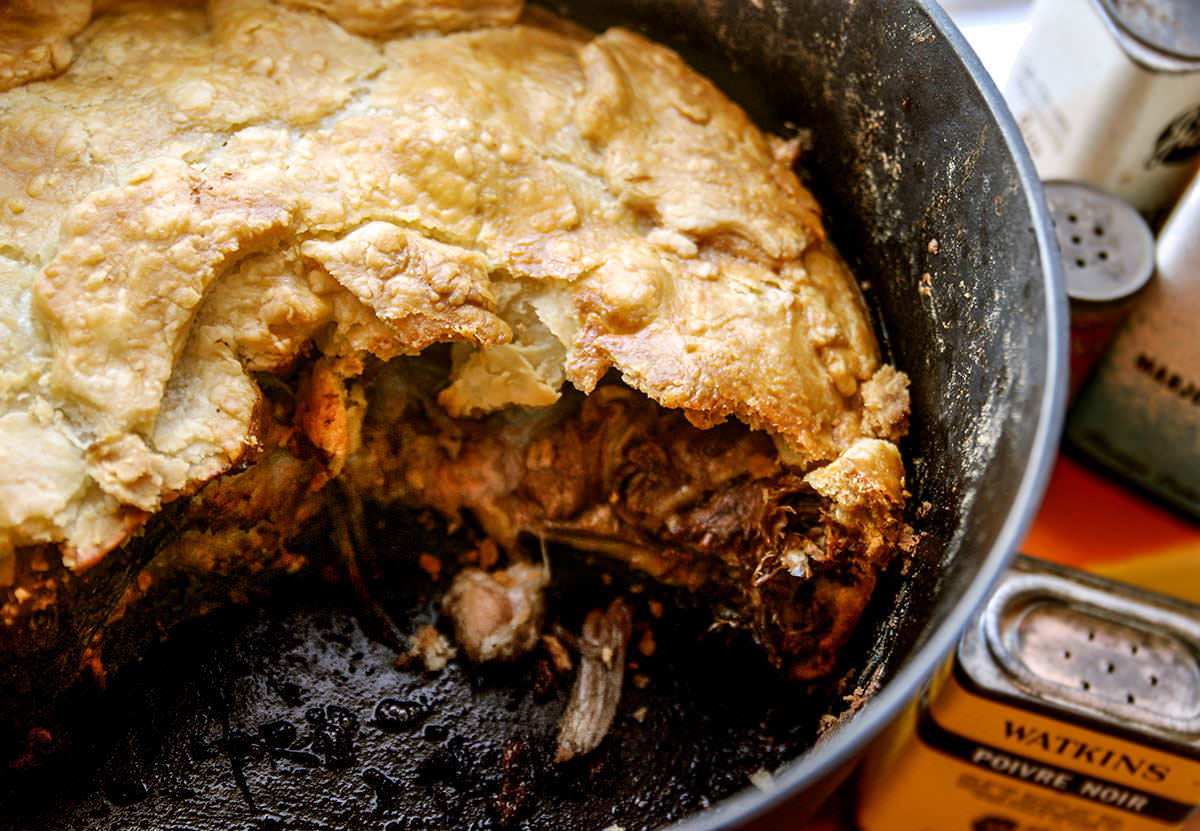 We've been somewhat reluctant to share this recipe because the subject is – "touchy".  It must be noted that if there is one mythical Québec dish that consistently incites debate – this is it! Maybe it's the instantly recognizable fragrance that fills the house that provokes sentimental memories of indulgent grandmothers. Or the seemingly interminable length of time we know we must wait before finally digging in (it takes up to 7 hours to cook slowly in the oven after all!)!
Ethné and Philippe distinctly remember innocently pronouncing the word cipâte during a conference in Chicoutimi – Cipâte's heartland. Well, it wasn't long before the discussions among the participants turned from heated to uncomfortably aggressive; requiring an immediate, friendly, yet firm call to order.
It goes without saying that every family, every parish and every region in Quebec has its own recipe: the real one and only! It is therefore with immeasurable humility that we present our family recipe. Of course we love it and so far nobody outside the family has ever refused to eat it!
The choice of meat is left to hunters' fortune or to what is available at our butcher shop. We enjoy adding dry, wild mushrooms and organic duck legs, because the fat from the duck skin penetrates the wild meat which has a tendency to be dry.
This recipe feeds 12 to 15 people.
Ingredients
2 kg / 4.5 lb wild OR farm-raised game
1 kg / 2 lb pork shoulder OR deboned duck with skin
500g / 1 lb salt pork back fat
6 large onions, finely chopped
5 large potatoes, cubed
6 Tbsp cipâte spices, ground
2 Tbsp salt
Freshly ground pepper, to taste
100 g / 3oz dry, wild mushrooms (optional)
Your own pie dough recipe (See ours)
Method
1

Preheat oven to 350°F.

2

Cut meat and salt pork into ½ inch (1cm) cubes. Place them in a large bowl with all remaining ingredients, except the dough. Mix well.

3

Roll dough to ¼ inch (1/2 cm) thickness into the shape of the dish in which the cipâte will bake (ideally a large cast iron pot with a cover or a large, heavy roasting pan). Make sure that the dough covers the entire surface (and the sides) of the pan.

4

Place the combined ingredients into the pan. Barely cover with cold water, then place the remaining dough on top, and seal carefully. Create a ½ inch (1cm) chimney in the center of the pie. Brush with milk.

5

Put in the oven for 1 hour.

6

Put on the cover or use a double thickness of aluminum foil, making sure to seal the pan thoroughly and securely. Reduce the oven to 250°F and cook for an additional 5 hours.

7

Take off the cover and cook for another hour.

8

Let rest at least one hour before serving. The cipâte is even more delicious when reheated the following day.