Quiche Lorraine with Cheese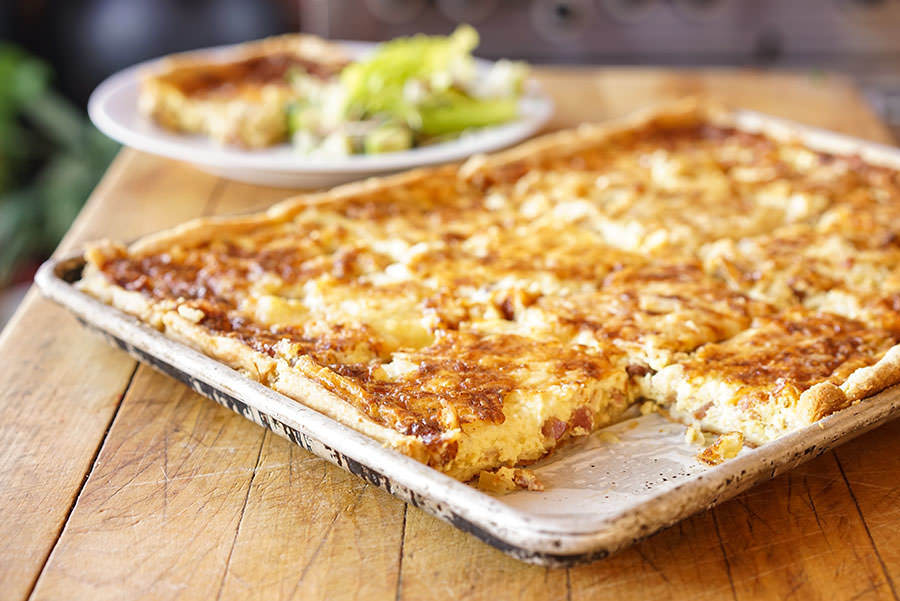 The original quiche Lorraine doesn't have cheese, just bacon or lardons. While we like to add a little cheese, it's still great without!
Ingredients
1 pie crust bottom (see recipe)
1 small onion, diced
10 slices bacon, chopped
3 eggs
1 cup 35% cream
1 cup milk
Nutmeg, grated, to taste
½ tsp white pepper, ground
Salt
1 cup grated cheese (Swiss, cheddar, mozzarella)
Method
1

Preheat oven to 350°F.

2

Heat a pan on medium. Sauté bacon and onions for a few minutes. When onions are golden, remove from heat and cool.

3

In a bowl, beat eggs, cream, milk, nutmeg, pepper and salt.

4

Spread onions and bacon on top of the pie crust. Pour in the egg mixture and sprinkle grated cheese on top.

5

Bake for 30-40 minutes. Let rest 20 minutes before serving.