Quinoa and Lima Bean Pilaf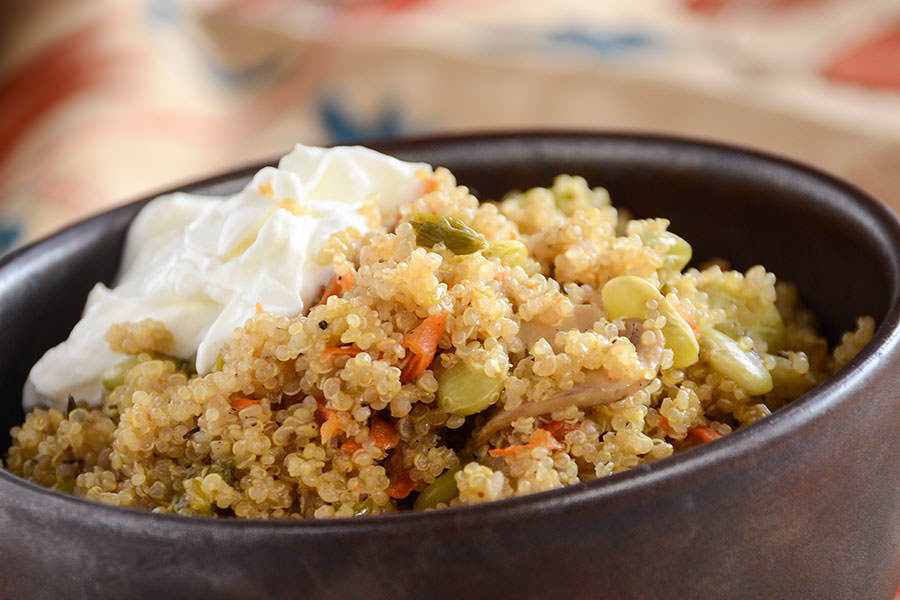 This vegetarian quinoa dish is both delicious and nutritious. Any leftovers can be easily turned into a side salad with a basic dressing.
Ingredients
3 Tbsp olive oil
1 bunch of scallions, chopped
1 celery branch, diced
½ cup mushrooms, sliced
½ Tbsp Aleppo seven spice or pulse & beans spice blend, ground
1 medium carrot, coarsely grated
1 cup quinoa
1 cup fresh or thawed Lima beans
1 cup water
salt to taste
Accompaniment
1 cup thick, natural yogurt
1 garlic clove, finely grated
salt to taste
Method
1

Heat a pan on a high-medium. Pour in oil, scallions, celery, mushrooms and spices. Cook for a few minutes.

2

Add carrot, then quinoa; mix well. Add Lima beans and 1 cup of water.

3

Bring to a boil, mix, cover and lower heat. Let simmer for 15 minutes.

4

Mix yoghurt, garlic and salt. Serve with the quinoa pilaf.