Raisin, Pistachio and Lamb Pilaf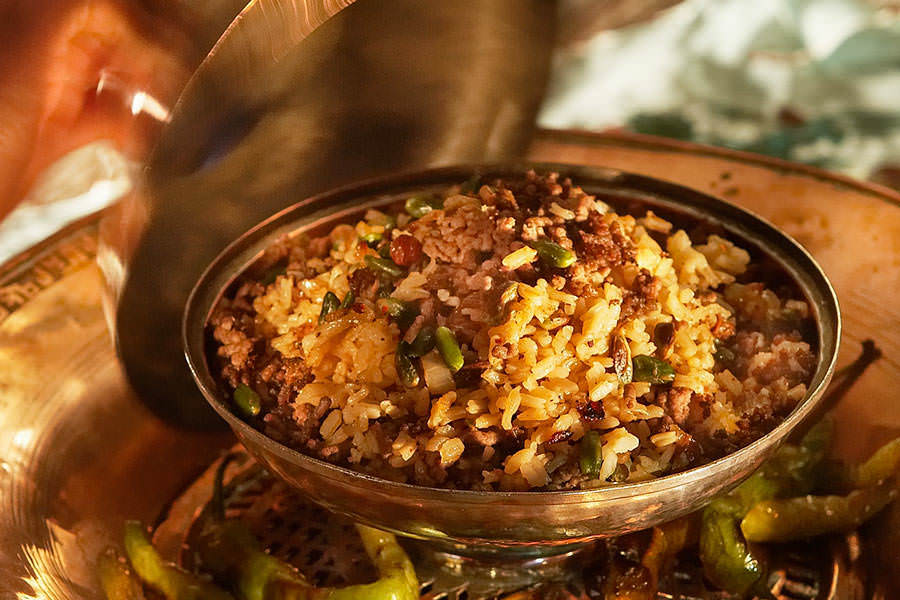 The spices used in this recipe can be found in a great number of rice pilafs with meat from Turkey to India. This combination of flavours was propagated by the Persians and can be further enriched with saffron, turmeric, rose petals, mastic, or long pepper. If you have leftovers, you can use them to make stuffed vine leaves or vegetables.
Rice
3 Tbsp lamb fat or clarified butter or butter and oil
1 large onion, chopped
1½ inch cassia, ground
8 allspice berries, ground
½ tsp cumin, ground
1 tsp Aleppo pepper, ground
¼ cup raisins
¼ cup pistachios, shelled
2 cups rice
Salt
4 cups lamb or chicken stock or water
Lamb
Garnish
Cassia, ground
Turkish or Hungarian chilies, grilled
Method
1

Rinse the rice in a colander

2

.Add the fat or oil to a thick-bottomed pan on medium heat. Brown the onion for a few minutes. Add the cassia, allspice, cumin, Aleppo pepper, raisins and pistachios. Sauté for 2 more minutes.

3


Add the rice and salt. Stir well and add the stock. Bring to a boil. Cover and reduce heat to low. Cook for 20 minutes more. Remove from the heat and rest, covered, for 15 minutes more.

4


Meanwhile, heat a pan on medium-high. Add the lamb, seven spice and salt.

5


Add the lamb and cook by breaking it apart with wooden spoon until it falls into small pieces and browns. Set aside.

6


On a serving plate, put alternating layers of rice and meat with pistachios.

7


Garnish with the ground cassia and serve with garlic yogurt and grilled peppers.