Carribean Ratatouille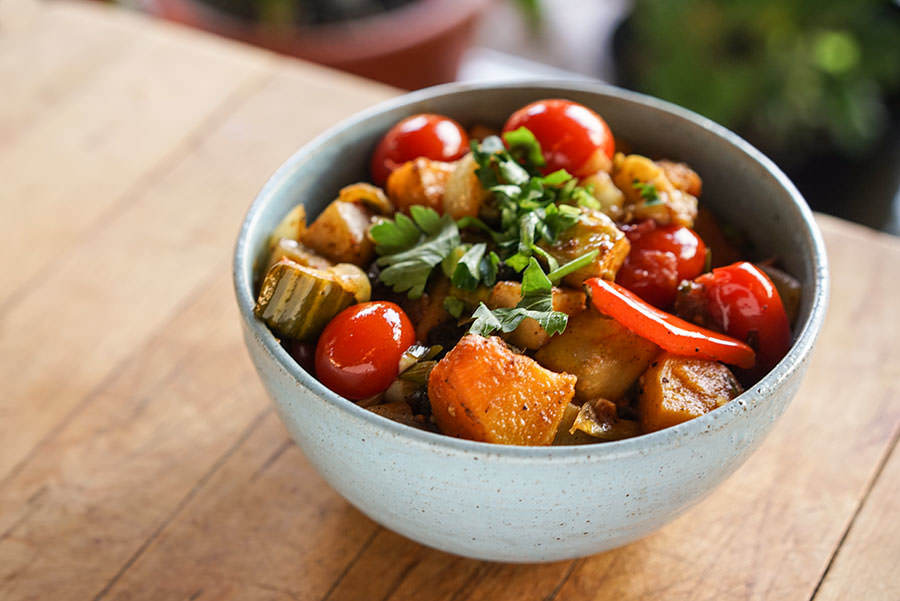 Caribbean Ratatouille is excellent served warm, as an entrée or side.
Ingredients
2 cups eggplant, chopped into 1-inch cubes
1 Tbsp salt
1 chayote
1 cup squash
1 cucumber
2 medium onions
3 medium tomatoes
1 bunch scallions
Black pepper, ground, to taste
Habanero or Reshampatti, ground
½ tsp tarragon
1 tsp thyme
½ tsp turmeric, ground
½ cup coconut oil
1 large red pepper
3 cloves garlic, chopped
1 cup parsley, chopped
Method
1

Place cubed eggplant in a bowl. Sprinkle the salt and massage it into the eggplant for about 2 minutes. Let excess water drain for about 15 minutes. Meanwhile, prepare the other ingredients.

2

Peel chayote, squash and cucumber and chop into 1-inch dice. Dice onions and tomatoes. Chop scallions.

3

Squeeze eggplant cubes with your hands to remove the bitter juice. Rinse in running water, drain well and squeeze out juice one more time.

4

Place eggplant, chopped vegetables, herbs and spices in a pot and pour the oil over them; add bay leaves and stir. Put the pot on medium heat and bring to a boil. Simmer over low heat until vegetables are softened, about 45 minutes. Cover if liquid is evaporating too quickly.

5

Cut peppers into 1-inch squares. Add peppers and garlic to the pot and cook for 10 more minutes. Salt, if needed.

6

Turn off heat and let cool for 20 minutes. Incorporate chopped parsley when serving.