Red Cabbage with Apple and Bacon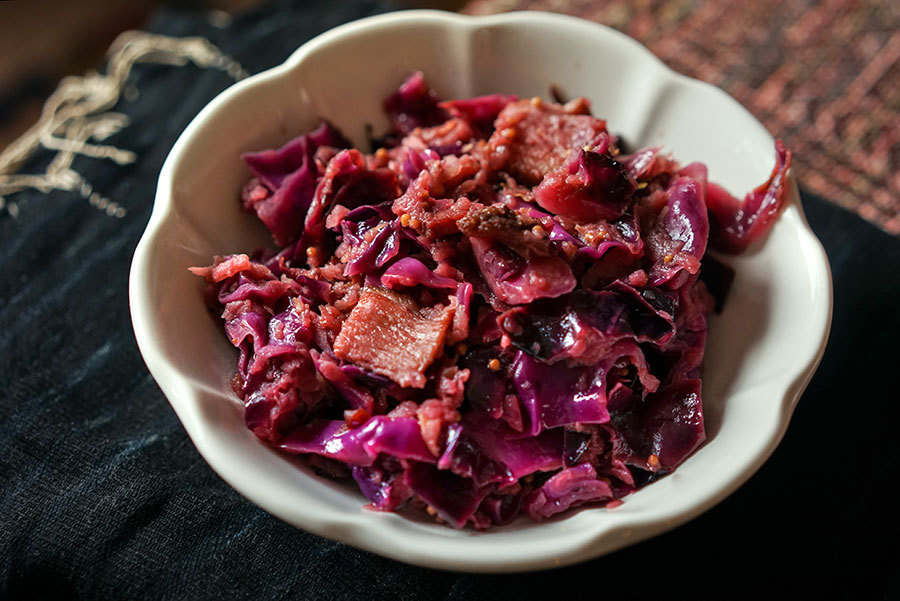 Two very similar versions of this recipe exist: one in Denmark and one in Landes, in southwest France. In both cases, it is served with grilled or roast pork or sausages.
Ingredients
1 small red cabbage
6 slices bacon
2 Tbsp mustard seed
1 tsp sage
Salt and pepper to taste
¼ tsp nutmeg, grated
1 orange zest (opt.)
3 apples
½ cup red wine
¼ wine vinegar or cider vinegar
2 Tbsp maple syrup or honey (opt.)
Method
1

Clean cabbage. Slice the cabbage into 3-inch strips.

2

Slice the bacon into 1-inch squares.

3

Put a thick-bottomed pot on medium heat. Add bacon and sauté a few minutes until they render their fat. Add mustard seeds. When they begin to sizzle, add cabbage strips, sage, bay leaves, salt, pepper, nutmeg and orange zest. Stir well.

4

Grate apples and add to the pot. Add wine, vinegar and maple syrup; incorporate. Reduce heat to low after about 5 minutes. Let steam in the pot until vegetables are tender, 20-30 minutes.

5

Let stand a few more minutes before serving.