Red Gazpacho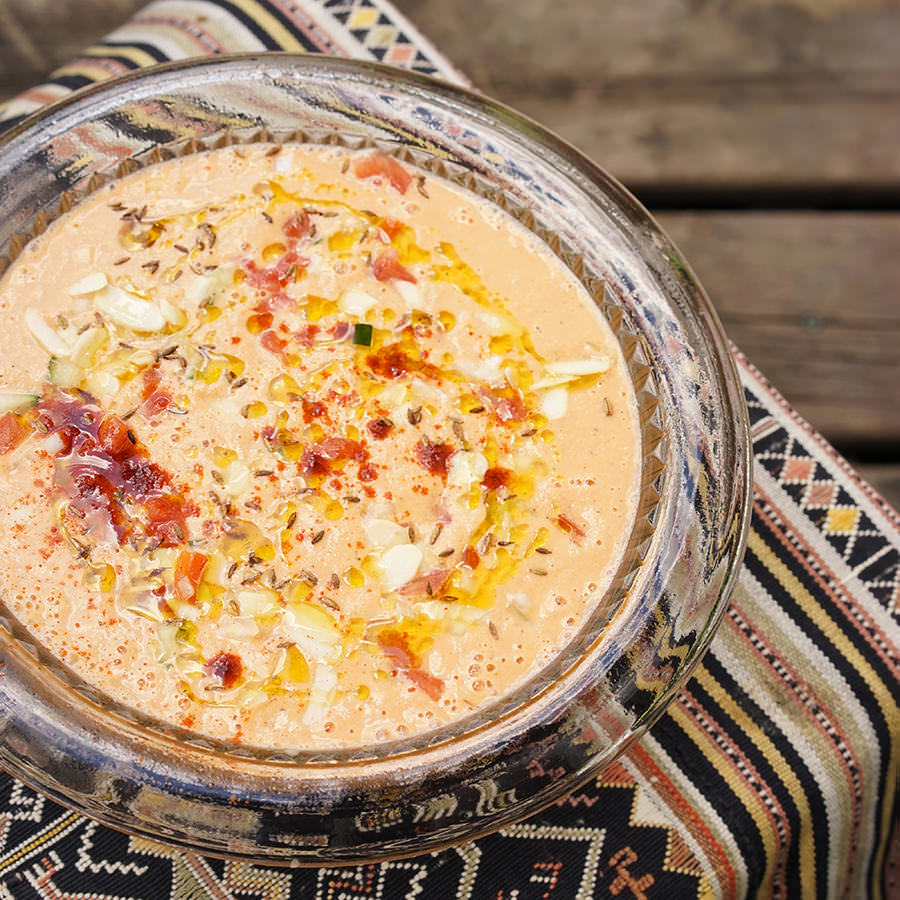 Cold soups allow you to enjoy the bounty of summer when it's too hot to turn on the stove. You don't have to run the soup through a sieve or strainer if you blend it thoroughly enough and if tiny bots of tomato and pepper skin don't really bother you.
Ingredients
4 cups ripe tomatoes
---
2 red bell peppers
---
1 medium English cucumber
---
½ small onion
---
1 cup blanched almonds
---
2 cloves garlic
---
2 cups ice cubes
---
2 tsp cumin
---
3 tbsp sherry vinegar or wine vinegar
---
6 tbsp fruity olive oil
---
Salt and pepper to taste
---
Smoked paprika for garnish
Method
1

Cut tomatoes, peppers, and cucumber into large cubes.

2

Reserve a few cubes of each to garnish the soup.

3

Put the tomatoes, peppers, cucumbers, onions, almonds, garlic, and ice in a blender. Reduce to a fine liquid.

4

Meanwhile, toast cumin in a small pan on medium heat. Grind half the cumin and set aside the other half for garnish.

5

Add the ground cumin, vinegar, 5 tablespoons of the olive oil, salt, and pepper to the blender. Blend well. Pass the soup through a fine sieve using a spatula.

6

Place serving bowls and soup in the fridge for half an hour to chill.

7

Ladle soup into the bowls. Garnish with the reserved chopped vegetables and toasted cumin. Add smoked paprika for decoration and a few drops of good olive oil.