Rhubarb Pie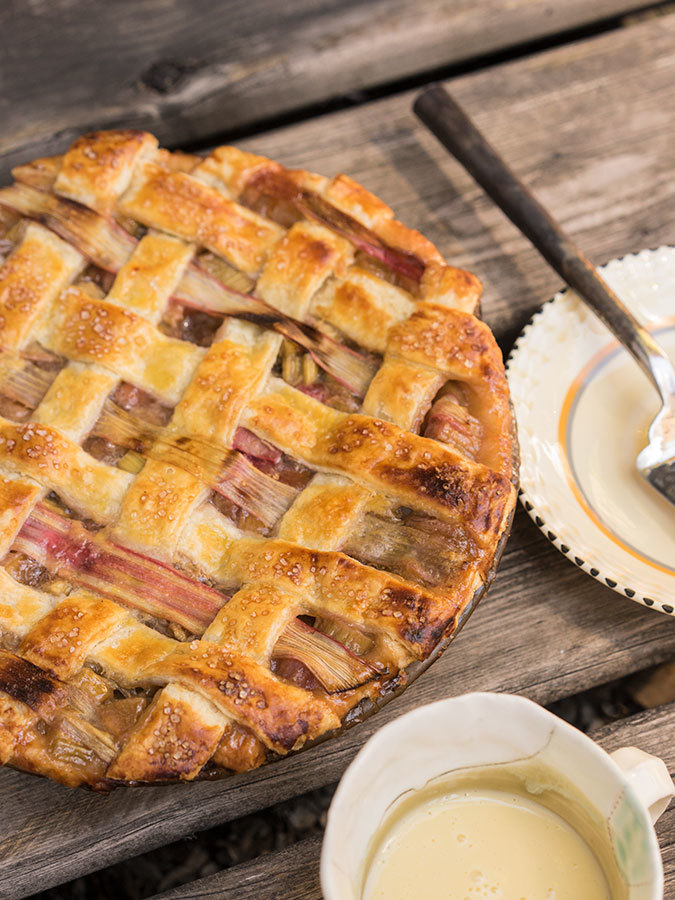 Rhubarb makes a famously flavourful pie, although its flavor can be too much for some! This recipe is remarkably balanced and will be hard to refuse for even the staunchest of rhubarb skeptics. 
Ingredients
2 lb rhubarb, sliced

---
3 cups white sugar
---
½ cup tapioca powder
---
1/8 tsp salt
---
1 Tbsp vanilla extract
---
1 recipe of our  no-fail pie crust, divided in two.
---
Turbinado brown sugar (opt.)
---
1 egg yolk + 1 Tbsp milk (for browning the crust) (opt.)
Method forfilling
1

Preheat oven to 400° F.

2

In an oven proof dish, mix half the rhubarb with sugar, salt, and tapioca starch.

3

Cover with aluminium foil and bake for 30 minutes, or until the rhubarb is tender and renders juice.

4

Mix with remaining rhubarb and vanilla and let cool completely.
Method for pie
1

With the first half of the pie dough, roll and round bottom about 13 inches in diameter and place at the bottom of a 9-inch pie.

2

Cut off any excess dough, leaving about 1 inch of excess around the pie pan.

3

Press the excess dough into a crust with your fingers.

4

Fill the crust with the rhubarb filling.

5

Roll the second half of the pie dough into a 14 x 9-inch rectangle.

6

Slice the rectangle lengthwise into strips about 1 ½ inches wide, then lay the strips into a lattice on top of the pie.  

7

Slice off any excess dough and press the crust strips into the pie bottom so they stick.

8

If desired, brush top with egg and milk mixture and brown sugar.

9

Place pie on a baking tray and place the tray on the bottom rack of the oven.

10

Bake for 30 minutes at 400°F, then 30-40 minutes at 350°F, or until the filling begins to bubble and the crust is browned (if the top is too brown but the filling still hasn't cooked, place some aluminium foil on top of the pie and continue baking).

11

Let cool before slicing.