Rice Pilaf with Vegetable Spices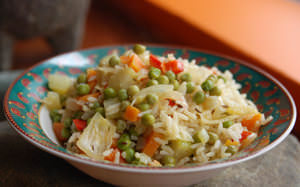 A pilaf is a dish in which rice is cooked in a seasoned broth. The proportions couldn't be simpler: one cup of raw vegetables for every cup of rice. This most comforting recipe makes a great side dish.
Simply choose whichever vegetables are in season, are in your fridge or from the garden. Tomatoes and sweet peppers are favorite additions chez nous.
Ingredients
6 Tbsp Ghee or Olive Oil
½ tsp Cumin seeds
½  cup Celery, diced
½  cup Green Peas
½ cup Onions, chopped
½ cup Carrots, diced
1 Bay leaf (West-Indian if possible)
2 cups Parboiled Rice
Juice of one Lime or Lemon
Salt
1 Tbsp Vegetable Spices blend, ground
Method
1

In a heavy pan, heat the ghee on medium heat. Add the cumin and brown for a few seconds. Add the vegetables, vegetable spices blend and the bay leaf.

2

Cook until the vegetables become aromatic and slightly wilted (5 to 6 minutes).

3

Add the rice and cook a few minutes stirring constantly until the rice is infused and golden.

4

Pour in three cups of water. Add the salt and the lime juice. Mix well and bring to a boil. Cover and reduce the heat on the burner.

5

Cook for 20 minutes, turn off the burner and let rest 15 minutes before serving.