Roast Rabbit with Orange and Herbs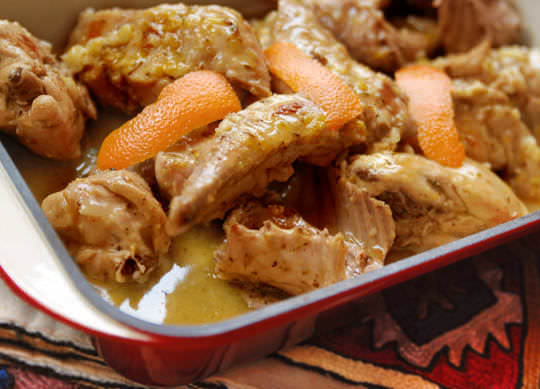 Inspired by cuisine from the Greek islands, where rabbit is often oven roasted and prepared with citrus fruits. Citrus and Mediterranean herbs always blend well. Rabbit can dry out quite easily, but roasting it in olive oil preserves its delicacy and flavor.
Simmering the rabbit in a generous quantity of olive oil is a technique that dates back to antiquity and has many advantages. First, the lean flesh of the rabbit benefits by being smothered in the olive oil. Second, cooking it on low heat preserves the numerous health benefits of the olive oil not to mention its flavor. Third, this technique requires very little supervision, allowing the cook ample time to leisurely prepare the rest of the meal and indulge in a little wine tasting. One has to admire the Greeks and their appreciation of life's priorities.
We strongly advise you against reducing the amount of olive oil in this recipe. Ample olive oil is essential to this dish and carries with it many nutritious properties. Cretans, who consume a daily average of 100ml of olive oil, have the highest life expectancy in all of Europe.
Ingredients
Juice from 3 Oranges
1 Rabbit, cut in pieces
2 Tbsp Dionysios' Wild Herbs
4 Tbsp White Wine
2 Tbsp Olive Oil
1 Lemon
Flour for the rabbit
1 cup Olive Oil
Salt and pepper
12 cloves Garlic
1 pearl Mastic (optional)
1 Tbsp Honey (Greek, if possible)
1 Tbsp Grappa or Brandy
A good splash of your best olive oil
Method
1

Grate the zest of 2 oranges with a fine grater. Grate only the uppermost layer of the zest. Set aside.

2

In a small bowl, squeeze the juice of the oranges and mix with the grated zest.

3

In a bowl, combine the rabbit, the herbs, the wine, 2 tbsp. of olive oil, 1/3 cup of orange juice and orange zest. Salt and pepper generously. Mix well and let marinate for a few minutes or, ideally, for a few hours.

4

Drain the rabbit and flour lightly. Set aside the marinade.

5

In a large, heavy pan, pour 1 cup of olive oil. Place on medium heat and put the rabbit pieces in the pan. Do not brown the rabbit. Turn over the pieces as soon as they become lightly golden. Add the garlic cloves. Cover the pan and reduce the heat to a lower setting.

6

Simmer the rabbit until it becomes tender and the skin is still slightly pink (approx. 20-25 minutes).

7

Remove the pieces of rabbit and place them in a dish. Add the mastic and the honey to the pan. Crush the garlic into chunks with a spoon. Pour in the remaining orange juice, the reserved marinade and the Grappa. Turn up the heat and reduce the sauce a little (3-4 minutes).

8

Add the remaining splash of oil. Pour the sauce on the rabbit and serve.