Roast Stuffed Turkey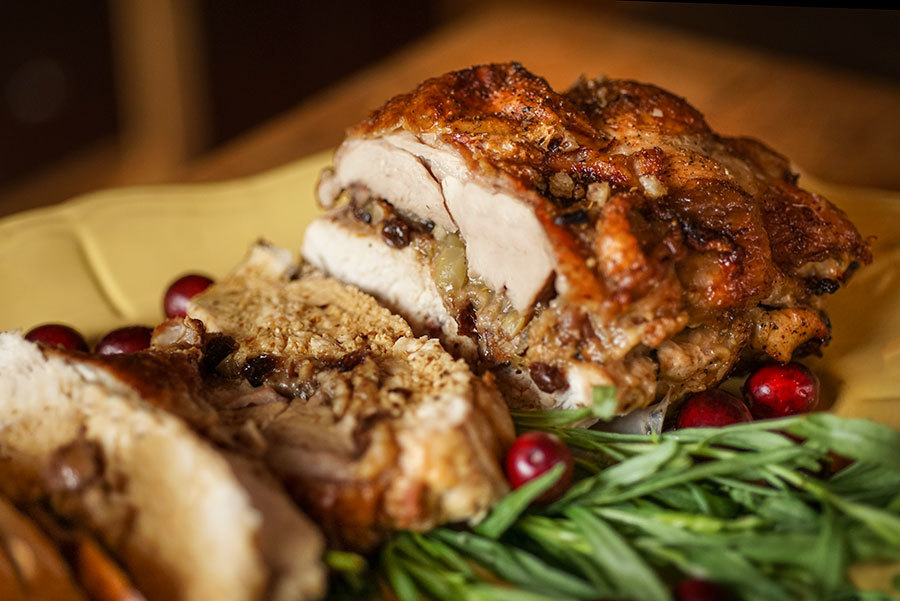 This roast is ideal for a big meal, especially since it takes less than an hour. It's important to keep the meat covered with its skin so its stays fresh and juicy. If you like, make the stuffing ahead of time- it'll keep 2 or 3 days in the fridge. Either way, be sure to let it cool at least 30 minutes before stuffing the turkey.
We prefer this recipe with our Apicius Spice Blend, but it's also great with the Quebec Herb Blend, Herbs for Poultry and Rabbit or even the traditional Poultry Spice blend. 
Ingredients
1 boneless, skin-on turkey breast (around 2 ½ lbs)
1 boneless, skin-on turkey thigh (around 1 lb)
2 Tbsp Apicius Blend, ground
2 Tbsp salt
Pepper to taste
3 Tbsp olive oil
Stuffing
1½ Tbsp olive oil
½ onion, chopped
½ stalk celery, chopped
½ Tbsp Apicius Blend, ground
½ cup raisins
½ cup pecans
Salt and pepper to taste
½ cup breadcrumbs or panko
1/3 cup water (about)
Stuffing
1

Heat a pan on high. Add oil, onion, and celery.

2

Sauté, stirring often for about 2-3 minutes.

3

Add spices, raisins, and pecans. Salt and pepper. Cook 2 minutes, stirring regularly.

4

Incorporate bread crumbs and continue stirring.

5

After one minute, incorporate enough water so the stuffing sticks together and forms into a ball. Pour onto a place and let cool. 
Roast Turkey
1

Preheat oven to 400° F. Place turkey breast on a cutting board, skin side down. Spread it out on the cutting board so the filet is as even as possible. Make a few incisions along the thickest part of the turkey breast so it cooks evenly.

2

Season the breast with 1/3 of the salt and spices. Spread the stuffing on the breast.

3

Spread 1/3 of the spices on the meat side of the turkey thigh. Lay the meat side on top of the stuffing- make sure you place the thickest part of the thigh on top of the thinnest part of the breast.

4

Wrap the stuffed turkey with butcher's twine to form a roast. Be sure to push the skin back over the meat if the twine moved it around- you'll want as much meat covered as possible. Cover the roast with the remaining spices.

5

Place turkey on a roasting dish and sprinkle with olive oil. Roast in the oven around 1 hour, until a thermometer inserted in the middle of the meat reads 165° F.

6

Remove from oven and let rest 15 minutes before serving.

7

Meanwhile, make a sauce by pouring a small glass of water on the roasting pan to deglaze, then putting it on medium heat for a few minutes. Strain sauce before serving.