Roasted cumin Quesadilla with Guacamole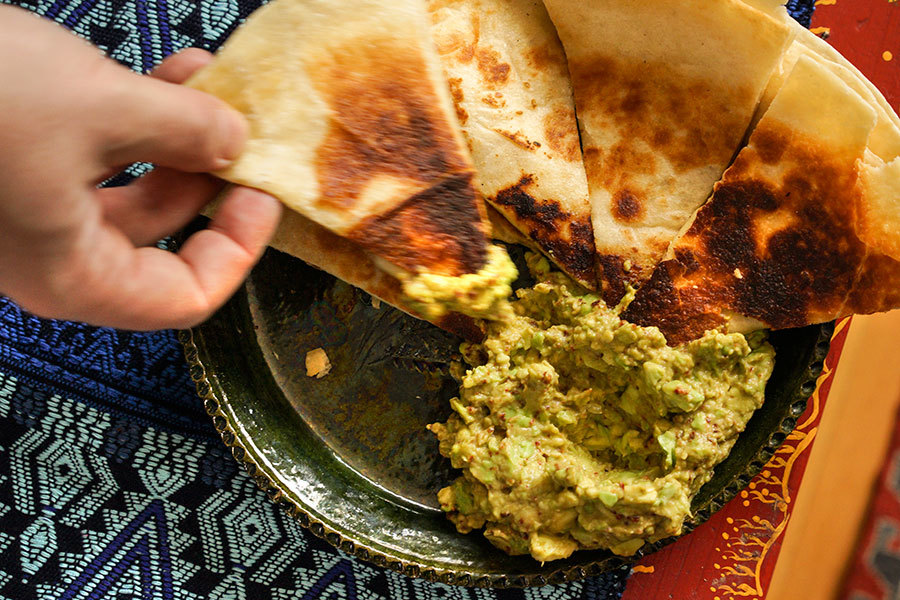 This dead simple quesadilla and guacamole combo is a great example of the power of a single spice. A lightly flavoured cheese allows the roasted cumin to stand out, while the smoky heat of chile Pasilla elegantly elevates a basic guacamole.
You can also make a full-sized quesadilla by placing the two tortillas on top of each other, but be careful for escaping melted cheese.

Guacamole
1 avocado
Juice of ½ lime
1½ tsp chile pasilla de Oaxaca, ground
Pinch salt
1 tsp chopped garlic (opt.)
Quesadillas
2 tsp cumin, roasted and ground
½ block (about 125 g) Oaxaca cheese, or other melty cheese, sliced
2 flour tortillas (10-inch)
Oil for frying
Method
1

Slice the avocado in two, remove the seed, and squeeze the flesh into a medium bowl. Add the juice, salt, ground chile, and garlic.

2

Smash and blend with a fork until it is your desired consistency.

3

Set aside (cover in plastic if you plan to wait more than 20 minutes so it does not brown).

4

Place ½ of the sliced cheese on one of the tortillas. Sprinkle on 1 tsp. cumin and fold the tortilla in half.

5

Heat oil in a large pan on medium-high. Add the folded quesadilla and fry for about 2 minutes on each side, until crispy.

6

Repeat for the second tortilla.