Roasted Peaches with Lavender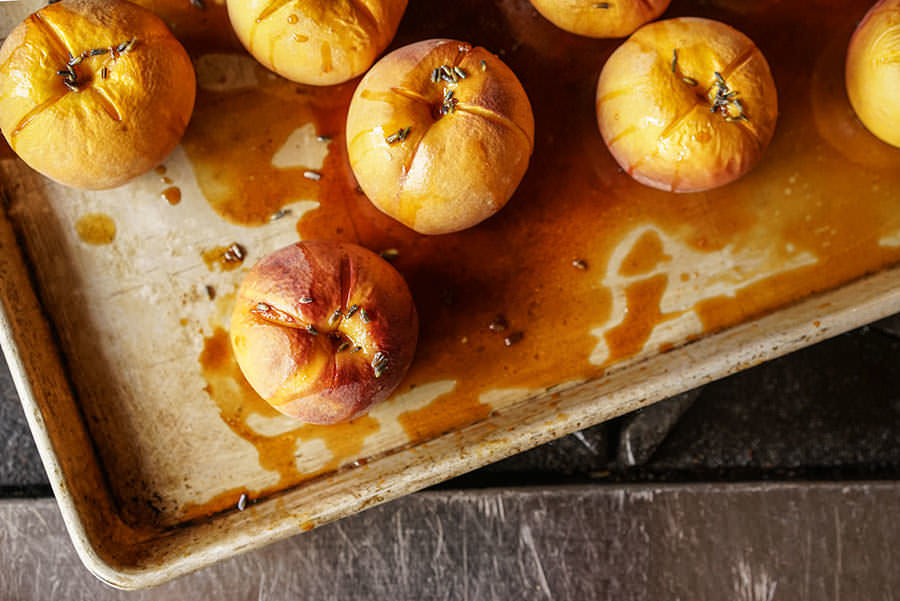 Lavender pairs nicely with less acidic and more sugary fruits like melons and apricots.Despite its inviting perfume, it's important to use lavender in moderation, due to its persistent bitter taste. The combination of lavender and summer fruit works in all sorts of desserts: sorbets, coulis, poached fruits and even macerated in fruit salads.
Ingredients
4 peaches, not too ripe
2 Tbsp butter
4 Tbsp honey
¼ tsp lavender
Chopped pistachios
Method
1

Preheat oven to 375 °F.

2

Wash the peaches and place them on a small, ovenproof plate.

3

Make a cross-shaped incision on top of each peach.

4

Fill the cross with butter, honey, and a few lavender flowers.

5

Place it in the oven and bake until the peaches are well roasted and the juices get a little syrupy (20-30 minutes).

6

Serve the peaches with the juice, accompanied by ice cream and some chopped pistachios.