Roasted Strawberry Pavlova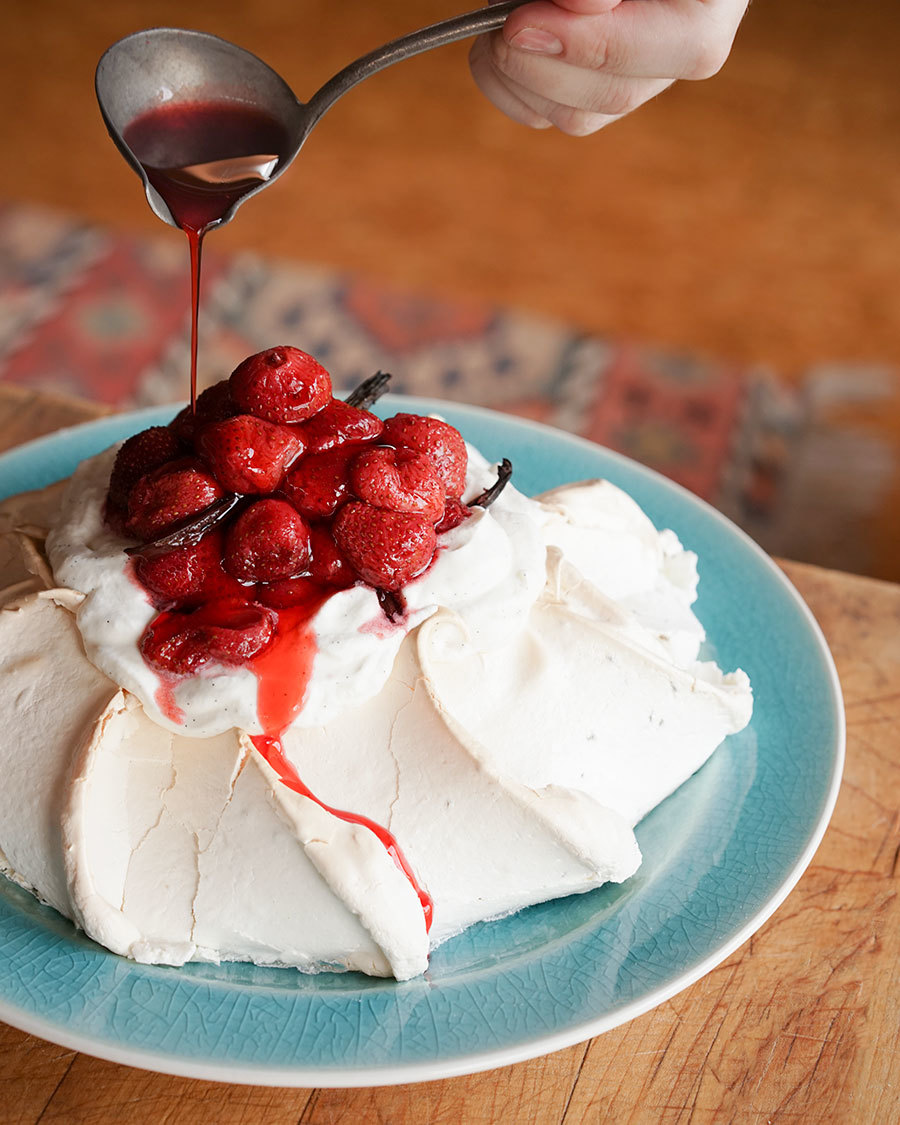 A sumptuous, light dessert! We don't often think of roasting strawberries but doing so makes for a rich concentration of flavours. The fragrance of vanilla coupled with the freshness of anise makes for a deliciously captivating combination.
This recipe demonstrates the efficient use of a single vanilla bean. To flavour the whipping cream, we use the vanilla caviar (little black grains found inside the bean). We then use the seedless bean when roasting the strawberries in the oven. 
Strawberry Garnish
2 cups de-stemmed strawberries, whole
1 pinch of salt
¼ cup white sugar 
One seedless vanilla bean  
Meringue
1 cup white sugar 
1 Tbsp cornstarch 
4 egg whites, at room temperature
Pinch of salt
1 Tbsp white vinegar 
1 Tbsp anise seeds 
Vanilla Whipping Cream
2 cups 35% Whipping cream
2 Tbsp white sugar 
Vanilla caviar 
Strawberry garnish
1

Preheat oven to 375 °F.

2

Blend all ingredients in an ovenproof dish.

3

Bake in the oven for 30 minutes.

4

Transfer into a glass jar and refrigerate until cold. 
Meringue
1

Preheat oven to 300°F and place the rack in the middle of the oven.

2

In a medium-sized bowl, blend the sugar and cornstarch with a whisk.

3

Pour egg whites into another mixing bowl then add salt.

4

Blend at medium speed, until the whites become foamy.

5

Sift the sugar blend and cornstarch over the egg whites and continue whisking.

6

Once the whites transform into soft peaks, add the vinegar.

7

Continue whisking until the peaks become firm.

8

Delicately incorporate the anise seeds, using a spatula.

9

Pour the meringue on a parchment-covered baking sheet and make a round "nest" using a spatula or a spoon. 

10

Bake in the oven for 1 hour, turn off the heat and leave for another 30 minutes, with the oven door slightly ajar. Let cool completely. 
Vanilla Whipped Cream
1

Beat the cold whipped cream on high speed until soft peaks form.

2

Add sugar and vanilla, then continue whisking until the peaks become firm.

3

Keep refrigerated in a closed container until ready to assemble.