Kidneys sautéed with mustard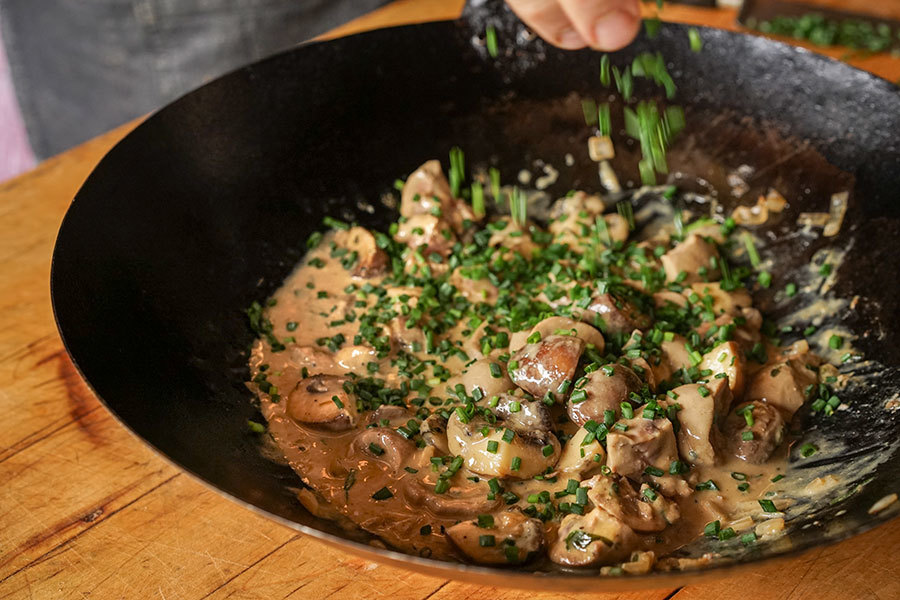 Kidneys toughen very quickly, so you want to minimize their exposure to heat if you want them tender.
Method
1

Remove any nerves from kidneys with a small knife and chop into 2-inch cubes. Set aside.

2

Chop shallots. Halve or quarter mushrooms, around the same size as the kidneys.

3

Heat a wok or large cast-iron pan on medium. Add half the duck fat and the shallots. Sauté 1 minute and add mushrooms, thyme, salt and pepper. Sauté until mushroom are cooked. If the mushrooms absorbed too much of the fat, add a few spoonfuls of stock or wine to finish cooking with steam if needed. When cooked, place mushrooms in a bowl.

4

Return wok to the heat without cleaning it. Increase heat a notch or two. Add remaining fat, kidneys, tarragon and nutmeg. Sauté 2 minutes.

5

Return mushrooms to the wok and sauté 1 minute more. Incorporate mustard and white wine. Simmer 30 seconds. Pour immediately onto a platter and garnish with chives.