Roman celery and raisin boar roast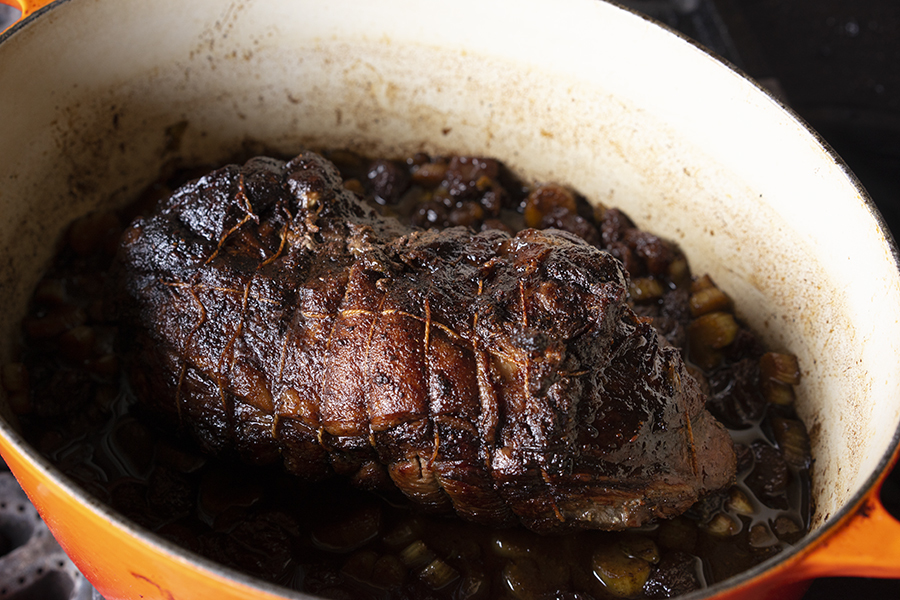 There was a lot of innovative cooking going on in ancient Rome! This recipe can also be made with pork; however, it would be better to marinate the meat for at least two days to allow the flavours to penetrate.
Ingredients
1 Boar OR pork roast (4-5 lbs)
3 Tbsp Apicius spice blend, ground
1 Tbsp salt
1 cup red wine
2 Tbsp olive oil
3 Tbsp lard OR olive oil
2 onions, chopped
2 cups raisins
1 cup chicken stock
¼ cup balsamic vinegar
¼ cup honey
4 cups celery, chopped
Method
1

Put the roast in a plastic bag or container.

2

Place the ground spices, salt, wine and 2 Tbsp olive oil in a bowl. Mix well and pour over the meat. Roll the roast in the marinade and remove as much air as possible from the bag and close well. Refrigerate for between 12 and 72 hours, rotating the bag occaisonnally.

3

Heat the oven to 425 °F. Remove the meat from the bag and pour the marinade into a small pan.

Place a casserole on medium heat. Heat the lard and sauté the meat lightly on all sides. Add chopped onions and sauté for another minute.

4

Put the casserole in the oven for 30 minutes and reduce the heat to 375 °F. Add ½ cup water and continue cooking for 1 ½ hours, basting the roast occasionally.

5

While the boar is cooking in the oven, place the raisins in a bowl and barely cover with hot water.

6

Pour the stock into the pan with the marinade. Bring to a boil and skim. Allow to reduce by one third. Add the balsamic vinegar and honey. Bring to a boil then set aside.

7

Thirty minutes before the cooking ends, place the celery around the roast and mix into the cooking juices.

8

Continue cooking for 15 minutes, then place the drained raisins around the meat. Pour the reduced sauce on the roast.

Cook for another 15 minutes.

9

Remove the casserole and let rest for 20 minutes in a warm place before carving the meat. Taste the sauce and correct for salt, if necessary.